Council Of State Member Gets UK Award
News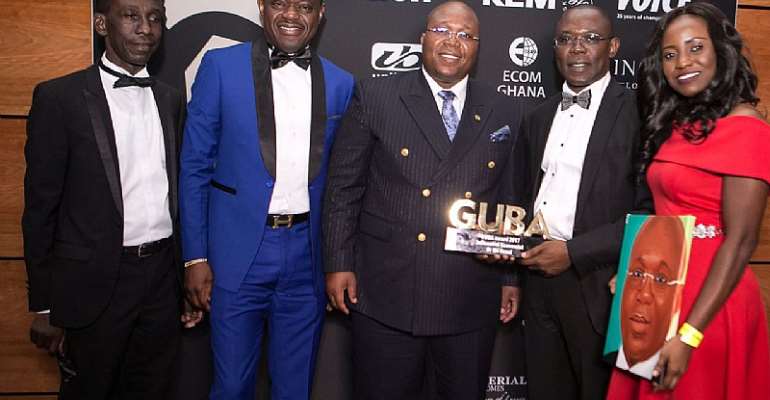 A member of the Council of State and President of Groupe Ideal Dr. Nii Kotei Dzani has been adjudged the Most Influential Economist at GUBA 2017 in the United Kingdom.
He was rewarded for his outstanding contribution to the financial sector through his entrepreneurial achievements and job creation.
According to the organizers, Dr. Nii Kotei Dzani is "an outstanding entrepreneur with proven record of success,"having founded Groupe Ideal, which is currently one of the fastest growing business groups in Ghana.
Born in Lolonya in the Ada District of the Greater Accra Region, Dr. Dzani holds a Bachelor of Arts degree in Economics from the University of Cape Coast, Ghana, an MBA in Corporate Governance & Finance from University of Hull, UK, and an Honorary Doctorate from Oral Roberts University, Oklahoma, United States.
Dr. Dzani's financial knowledge and economic contribution to corporate institutions, SMEs and banking establishments cannot be underestimated.
With a strong passion for the growth of the brand, Dr. Dzani has been instrumental in the development and implementation of strategies, as well as innovative products and services, which have been very much part of the group's success story in the market.
Dr. Dzani has won many awards, including Overall Best Entrepreneur at the Entrepreneur Foundation of Ghana Awards 2016, Emerging Man of the year 2014 by an Accra-based VIASAT1 Television, Banking & Finance Entrepreneur for the year 2015 by Entrepreneur Foundation Ghana, Most Outstanding Finance/SME Entrepreneur in West Africa 2015 at the Security Watch Awards in South Africa.
He also led the team at Ideal Finance, the flagship of the group, to win Emerging Brand of the Year 2015 at the CIMG Marketing performance awards.
In 2016, under his able leadership, Groupe Ideal acquired majority shares in TV Africa, which has consequently been rebranded, equally saving the jobs of over 150 Ghanaians while giving them hope of continental excellence.
He again took over EZI Savings and Loan in 2014 and rejuvenated it to now FirsTrust Savings and Loans.
Dr. Dzani's firmness and intelligence in business has led to the success of Groupe Ideal, which currently has 13 subsidiaries and still counting.
The highly esteemed 'GUBA Black Star Award' scheme this year awarded 13 outstanding members of the Ghanaian, UK and African community, exalted them for their consistency, dedication to excellence and long-standing contributions to society.
Some prominent Ghanaian personalities, who won award on the night, include Dr. Papa Kwasi Nduom, Excellence in business award, Anas Aremeyaw Anas, GUBA Exceptional Journalist Award.
Maidie Elizabeth Arkutu-Vice President Unilever Francophone Africa also took home the Female Influential Leader award.
The Innovative Pioneer Award went to Dr. Apostle Kwadwo Safo.
Kwaku Oteng, CEO Angel Herbal Products, won GUBA Outstanding industrialist.
Established in 2009 by UK based Ghanaian TV personality Dentaa, the GUBA Award scheme is to award excellence to the "hugely significant" contribution that  British-Ghanaian make to society.