Suhum MCE Embarks On Tour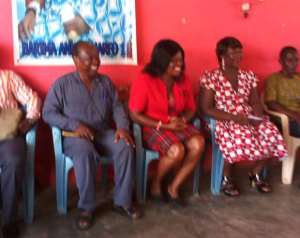 The MCE with her entourage at Nankese chiefs palace
Margaret Darko, the new Municipal Chief Executive (MCE) for Suhum Assembly, has embarked on a familiarisation tour of the area to obtain first-hand information from the chiefs and the residents to enhance her work.
The chiefs and elders of the various traditional towns welcomed the move.
It would be recalled that just after the overwhelming endorsement of the President's nominee, Margaret Darko by the Assembly members, she promised to work with all and sundry, irrespective of political, ethnic and religious affiliations, in order to develop the municipality.
Due to that, the MCE decided to pay a courtesy call on the traditional rulers to discuss pertinent matters.
The MCE assured the chiefs that she would comprehensively involve them to boost the development of the Municipality.
Mrs. Darko said she would undertake projects immediately to avert the slow pace of development in the Municipality.
She therefore admonished the chiefs and elders of their immense support and prayers for a successful tenure.
The chiefs expressed appreciation for the visit and reiterated their commitment to supporting her to develop the area.
They advised her not to repeat the mistakes of the past administrations and allow contractors to abandon projects for a long period of time and go scot-free.
From Daniel Bampoe, Suhum