PMGL donates to Save a Child, Save a Mother fund
News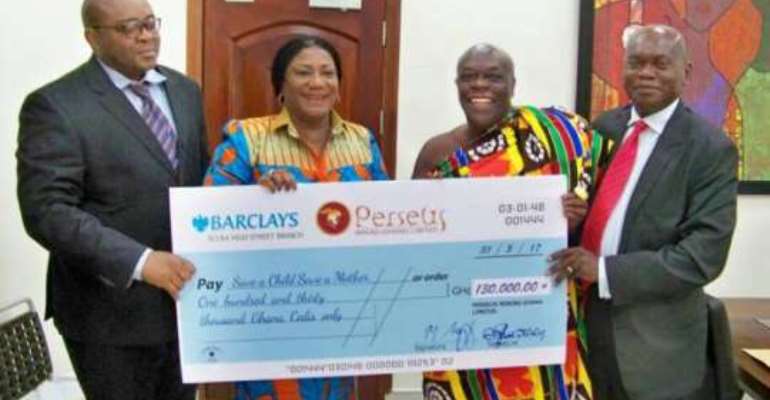 Robert Anane, GNA
Accra, June 8, GNA - Perseus Mining Ghana Limited (PMGL), has donated 130,000 Ghana cedis, to the Save a Child, Save a Mother Fund, of the Rebecca Foundation in Accra.
The donation is to support the completion of the maternity block of the Komfo Anokye Teaching Hospital.
Mr Ahunabobrim Prah Agyensaim, Chairman, Board of Directors, PMGL, made the presentation and said through the Edikan fund, they had been able to support the development of some communities in its catchment area.
The Edikan fund is a trust, set up by PMGL. The fund recently commissioned a Community-based Health Planning Service (CHIPS) Compound that it constructed for the people of the Fobinso community.
The fund has also constructed schools, teachers' quarters, equipped an ICT centre, and provided scholarships to students.
The First Lady urged others to emulate the gesture, and to contribute to the fund.
She thanked the company for the support and said government alone could not fund the project, and therefore needed the support of all Ghanaians, as well as other partners.
The construction of the maternity block of the Komfo Anokye Teaching Hospital, started more than three decades ago, but came to a standstill, due to lack of funds.
As a result, pregnant women who visited the unit, suffered challenges such as; lack of beds and other facilities.
Through media reports, the First Lady, decided to raise funds for the completion of the block.
GNA