Child Labour: Is Poverty The Cause?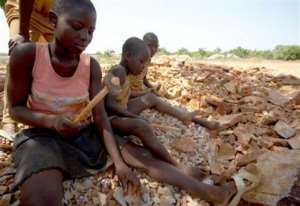 File Photo
They are seen on the streets, in your homes, industries and businesses. The issue of child labour is a canker that is slowly eating up the dignity and worth of this nation. And if immediate attention is not given to this problem, the morality of this nation would be nothing to write home about. How can a country referred to as a mother and known for its peace and hospitality be indulged in this debauchery. How can a country go to sleep knowing that her children are out there engaged in hazardous jobs that deprives them of their childhood, potential, dignity, physical, moral and mental development?
It is sad that child labour is on the increase and for a long time now mother Ghana has still not seen the urgency in getting her children off the street and from doing hazardous work. Poverty is not the cause, no it is not the cause of Child Labour. It is the negligence of a country, the apathy of its citizens, selfishness and ignorance of a country that deprive her children the opportunity to attend school, obliging them to leave school premature and requiring them to attempt to combine school attendance with excessively long and heavy work and deny her children of their childhood.
A recent Ghana Labour Standards survey (GLSS 6) released in August, 2014 showed that 21.8 percent of children aged between 5-17 years are engaged in child labour. These children working in the fishing, mining, domestic , industries and agriculture sectors doing hard work are exposed to hazardous chemicals, unguarded machinery, dust, noise, vibrations, fire and explosions that might lead to intoxications, burns, injuries, repetitive strain injuries, ocular fatigue, chemical poisoning, hearing impairments, HIV/AIDS and death.
Every fifth child in Ghana is directly affected by this evil, and mother Ghana has this phenomenon in every one of her regions. How does a country grow in this situation? Where children who are to lead the country in every sector of the economy in some years to come are ignored and denied their rights to development. It is common to find children on the street fending for themselves and providing for their families, taken the roles of adults; where did this come from? How did it start? Who nurtured it? Why are we unconcerned? Article 28 of the Constitution of the Republic of Ghana adopted in 1992 (2) states; every child has the right to be protected from engaging in work that constitutes a threat to his health, education or development. The country who is to protect her child is looking on blindly to this issue and unconcern.
The foundation of every individual is childhood, for an individual to develop holistically and productively depends on his/her childhood. A healthy country is seen by the wellbeing of her children. For the cycle of poverty to be broken or stopped from beginning depends on the amount of quality investment a country invest in the lives of her children. Ghana should be able to take proper care and provide for her people especially children who are still developing and growing to their full potential. Ghana should be a mother who protect, defend and enforce the rights of her children so that they grow freely and happy.
Poverty is not the cause of child labour. The negligence, selfishness, apathy and ignorance of a country is the root cause of child labour. A country should be morally involved in the wellbeing of its children; enforcing and upholding their rights in all circumstances.
By: Huda Sangari