Christians are signing bad contracts - Christian Council
News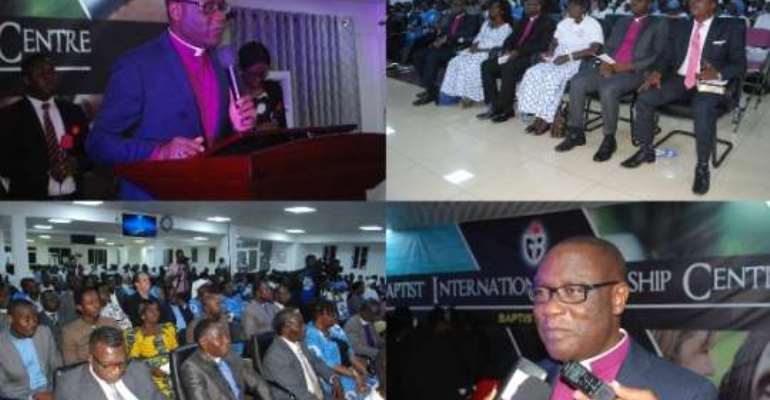 Accra, June 8, GNA - The Reverend Dr Ernest Adu-Gyamfi, Chairman of the Christian Council of Ghana (CCG) and President of the Ghana Baptist Convention, has questioned why the very individuals who are caught in the web of signing bad contracts are Christians.
He said most of the contracts they signed at the various Ministries, Departments and Agencies the law always caught up with them.
'They claim to be Christians who are supposed to fear God yet they sign the bad contracts running the state down in terms of revenue,' he posited.
Speaking at the annual joint meeting of the CCG and Ghana Pentecostal and Charismatic Council (GPCC), Rev Adu-Gyamfi said if Jesus was to be around, would these individuals who claimed to be Christians sign these contracts, knowing that they were going to hell for committing these atrocities against the state.
He said Ghanaians had taken the power of God for granted by forgetting that God was Omnipotent.
He said sin had separated Ghanaian Christians from their God.
He was delivering a sermon on the topic: 'The Church is a Believing Community.'
He explained that Christianity was not about prosperity alone adding: 'What will it profit a man if he has all gains of the world on earth but none in heaven.'
'Christians should rather fight for the gains in heaven but what we see these days is the recycling of the souls leading the church leaders fighting over membership.'
Rev Adu-Gyamfi said the church had thrown away the word of the gospel and it was now about wealth and nothing more leading to the breakdown of the morality in the nation.
He reminded Christians to build their treasures in heaven because those on the earth would be left behind.
' The church must rise up and preach the gospel to help change the situation because the church believes specific things and sets of believes ' , he noted.
He said Christians no matter the denomination believed in some cardinal principles that 'no one comes to the father without going through the son, this should have been the principles for teaching the church to be upright'.
He appealed to the leadership of the church to go back to the days of teaching the gospel to instill discipline among members.
Meanwhile, the leadership of the Council in a communiqué said: 'We have observed with discomfort the levels of public indiscipline in our nation.
'The avoidable killings on our roads, open defecation resulting in diseases like cholera and typhoid, disregard for the rule of law, disregard for environmental cleanliness, lateness to work, lack of maintenance of public property, corruption are examples of such worrying attitudes.
'We therefore wish to draw the attention of Christians and the nation to the following:
Christians should bring to bear our faith values into public service by living lives worthy of our calling.'
The communique asked the citizenry to cherish values like hard work, honesty, integrity, and respect for the rule of law.
'We call on government to roll out a programme to facilitate attitudinal change which the CCG and the GPCC would be ready to support.'
A typical example is the need to establish accessible counselling units in our various institutions, the communique said. GNA