Slain Soldier Family Thanks Akufo-Addo
News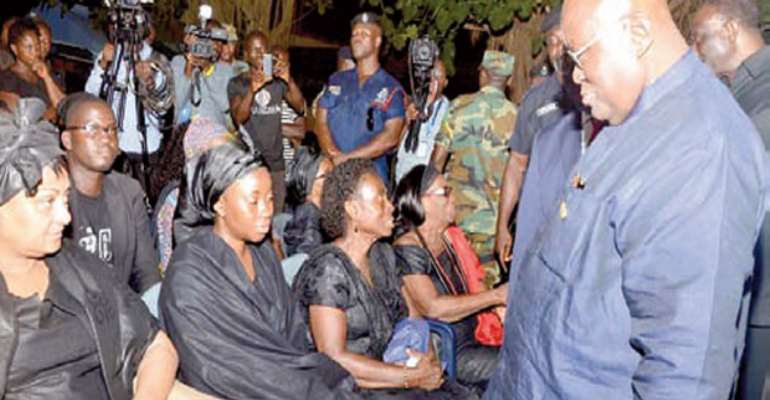 The family of Major Maxwell Adams Mahama whose tragic death occurred at Denkyira-Obuasi in the Central Region, has commended the President and Commander-in-Chief of the Ghana Armed Forces, Nana Ado Dankwa Akufo-Addo, on promoting the slain army officer posthumously to the rank of Major – form Captain.
"On the recommendation of the Military High Command and in consonance with the relevant regulations of the Ghana Armed Forces, I hereby posthumously confer on the late Captain Maxwell Adam Mahama (GH/3454) the substantive rank of Major with effect from Monday, May 29, 2017," the citation accompanying the honour stated.
Expressing the family;s appreciation to the president; the Chief of Defence Staff, Lt. Gen. Obed Akwa and other government officials who accompanied the president to the deceased's residence near Arakan Senior Officers' Mess at Burma Camp, Accra on Monday, Zakaria Sakara Ahmed, family spokesperson, averred that they had been overwhelmed and humbled by the president's kind gesture.
According to him, President Akufo-Addo's consoling message, coupled with the number of reliefs he granted the family, had greatly inspired them and given them hope for a befitting state burial for their departed son. He said they were also grateful for the assurance to assist the widow, Babara Mahama and the two children, Jaden Mahama and Jeremiah Mahama.
The late soldier was a victim of mob attack by the residents of Denkyira-Obuasi, despite his pleadings that he was a soldier and not an armed robber.
A further package that received a rousing ovation from the mourners was the government's approval of a further request by the Military High Command for the erection of a monument in honour of the slain army officer and the setting up of a Memorial Trust Fund with both the state and himself (president) providing seed money of GHc500,000.00, which he personally donated GHc50, 000.00.
By Solomon Ofori