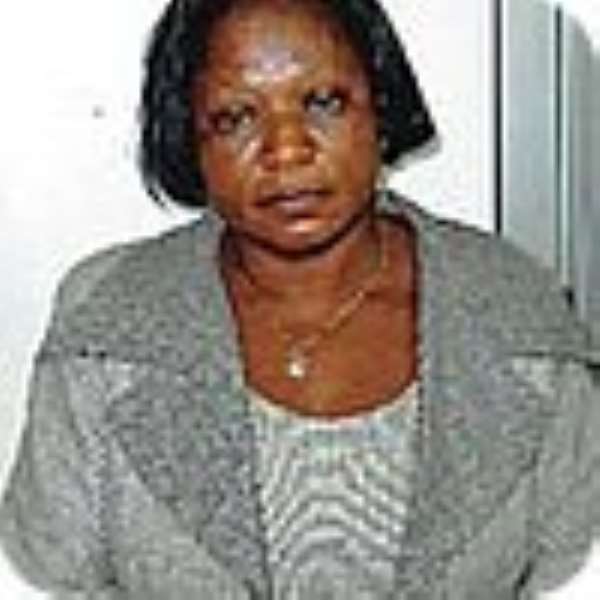 ...After A Three-Year Surveillance ... She Heads A Family Of Pushers A 51-year-old businesswoman, described by the Narcotics Control Board (NACOB) as the baroness of drug couriers in Ghana, has been arrested in Accra. Agatha Opoku Benson is said to be the kingpin around whom a family of drug pushers has been operating. And in the last three years alone, she has assisted more than 10 people, mostly members of her close family, to push hard drugs abroad. The owner and proprietor of Look and Like Gift shops, one at Awudome Roundabout and the other at Madina Market, Agatha lives at Taifa, where she has two magnificent buildings. But the bulk of her wealth is said to be in Kumasi. Her son, Richard Kwame Ampofo Benson, is currently standing trial in the United States of America where he was arrested last December with 15.5 kilogrammes of heroin. In July 2003, Agatha's then pregnant sister-in-law, Irene Cynthia Benson, was arrested in London with 7.87 kilogrammes of cocaine and she is currently serving a 10 year jail term in the UK. Agatha was later identified as the head of that family cartel and after a three-year surveillance, she was finally grabbed at the Kotoka International Airport last Saturday with 10.7 kilogrammes of cocaine concealed in bags which have already been checked onto the plane. Before her arrest, Agatha was on trial as an accomplice in the case involving Irene Benson but has been granted bail by an Accra court. A source at NACOB said following Cynthia's arrest in London, information was sent to the board to conduct further investigations into allegations Cynthia made against Agatha, her sister-in-law.
The source said because suspects in drug cases often absconded after being granted bail, officers of NACOB mounted surveillance at the airport and other departure points to ensure that such persons were prevented from travelling outside.
According to the source, it was in line with that strategy that Agatha was confronted at the airport last Saturday evening.
It said she immediately confessed having some drugs with her and wanted to negotiate with the officials for her release. The source said she claimed an Alhaji in Accra had given her the drugs.