Call To Account Sounds Better, PC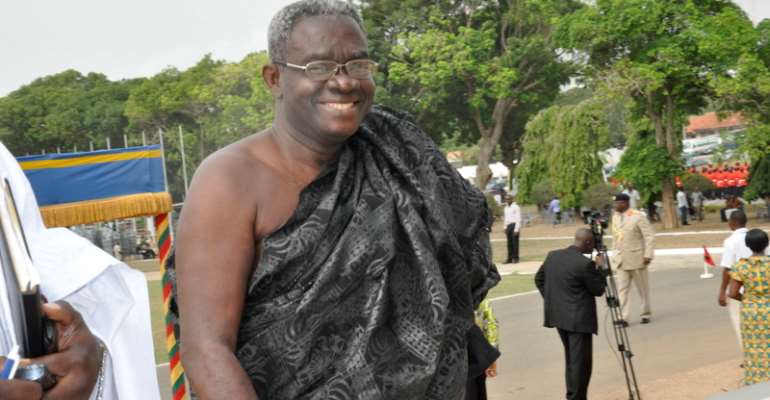 I had been wondering whatever happened to this maverick of a retired New Patriotic Party (NPP) politician and former Member of Parliament for Asikuma-Odoben-Brakwa, until I came across a news story captioned "Akufo-Addo Will Jail Corrupt Officials After One Year – PC Appiah-Ofori" Graphic.com.gh / Ghanaweb.com 5/23/17). I quickly noted on a printout of the aforesaid article the title of the present column because, somehow, I felt that the caption of the Appiah-Ofori article sounded too harsh. It portrayed President Addo Dankwa Akufo-Addo more as a vindictive personality than someone who uncompromisingly prioritized social justice above all else in the conduct of our national politics.
But I was especially elated to see Mr. Appiah-Ofori back in the news headlines. Nearly 10 years ago, a young man wrote to me about something that I had written about this highly principled statesman. Now, I call PC a "statesman" because he has always been concerned about good governance than merely winning elections and maintaining a fat and comfortable paycheck from one polling season to another. It was about something controversial that I had written about PC that had either inspired or provoked his son to write to me. And the letter-writer was quick to assure me that he had not written to take issue with me one way or another, but only to commend me for the contents of what I had written. That was during the time that PC appeared to be having some marital problems. I felt that those among his critics and detractors who were trying to use this purely domestic problem to tarnish the image and reputation of this otherwise decent and noble man did not have any legs to stand on.
I also followed some of the problems that PC had in Parliament with his party's leaders, who clearly appeared not to envisage him as a team player and would therefore routinely assign him to parliamentary committees whose terms of reference seemed to be patently pedestrian. That was when President John Agyekum-Kufuor literally ruled the roost. The two men did not seem to be any particularly warm towards one another. And I would not be surprised if it was this cold-shouldering of the man by the leaders of his own party that prompted PC to depart from the august House. I have also observed him give what appeared to him to be cogent reasons for then-Candidate Akufo-Addo to drop Dr. Mahamudu Bawumia as his running-mate. And then constructively come around to seeing the rare gem of wisdom underneath the motive of Nana Akufo-Addo's choice.
Well, PC is quite right that not very long from now, President Akufo-Addo will begin to crack the proverbial whip against the corrupt dealings of both politicians under his administration and those of the previous government. But this would not be because the former Attorney-General and Minister of Justice delights in humiliating and/or hurting his associates and political opponents, but primarily because he wants to see a decent culture of political accountability take root in the country as never before. "There are many cases at the Attorney-General's Department; but they do not have the courage to deal with them. So the Special Prosecutor will tackle issues on corrupt practices," PC is alleged to have confided in an interview to the host of a talking-heads program on the Accra-based Rainbow Radio.
Hear! Hear! Hear! PC, I bet my proverbial bottom-dollar.
*Visit my blog at: kwameokoampaahoofe.wordpress.com Ghanaffairs
By Kwame Okoampa-Ahoofe, Jr., Ph.D.
English Department, SUNY-Nassau
Garden City, New York
May 28, 2017
E-mail: [email protected]