Denkyiraman Association of USA's Tribute to Captain Mahama
Release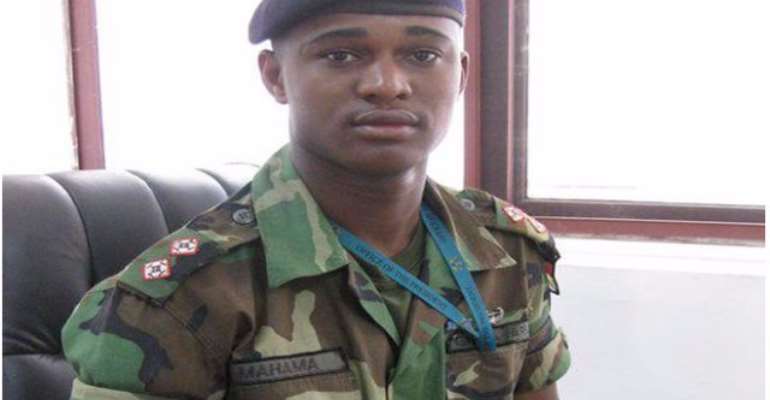 With our heartfelt sympathy we share with the Nation, the Security Forces and the Family, the loss of Captain Maxwell Adams Mahama, a proud son of Ghana. Death is sad enough when anticipated, but even worse when unexpected in such a barbaric and unprecedented nature when you loose the opportunity to say goodbye to a lovely and young wife and innocent children.
We are shocked and chilled to the bone by this cruelty to a soldier who has devoted his youthful life to protect property and life and make all of us safe.
Gone too soon! It's time like this that put our faith to the test. It's our fervent hope that we will all use our faith to see us through the grief and despair that comes with such a barbaric tragedy. Our firm belief is that Captain Maxwell Mahama would want us to keep his memory by expressing our faith and not make this cruelty a nine (9) day wonder.
All our prayers should remind us of the loving, compassionate, youthful, energetic and proud son of Ghana. The Bible says, "Blessed are those that mourn for they shall be comforted." We pray that God will bless the Nation, the Family and the Security Forces to get through this trying moment.
"Think before you speak." - (Socrates). To those uncultured mouths (Politicians) who in their stupidity and ignorance, have chosen to politicize this cruelty, our plea with you, sychophants, is to "Look into thyself." Your dirty, corrupt and ignorant selves and how you have personally contributed to this national cancer. (Vigilantism - mob attack)
In our solemn support, of the Nation, Family and the Security Forces, we applaud His Excellency President Akuffo Addo, Ex-President JJ Rawlings, and Heads of the Military and the IGP who have spoken to calm all nerves down. The President has spoken and is resolved to book the perpetrators of this gruesome murder.
To the peace loving people of our Nation Ghana, we want to assure you that Oboase (Denkyira) citizens are peaceful and law abiding citizens of the Paramount. We cannot use the few barbaric behavior to vilify the entire township. These types of people are found in every nook and corner of Ghana; Eg Siakwa (B/A) Telensi (Upper) Kasoa (Accra). To those politicians who wants to inflame this absurd situation just to be heard, our advice is Zip It Off. It's not worth it.
On behalf of Denkyiraman Association of USA and the citizens of Denkyira Paramount, we sympathize and empathize with the Nation, the Family and the Security Forces for this animalistic instincts displayed in such outrageous murser. May he rest in peace.
Nana Oduro Appiako II
Kyidomhene of Dekyira Traditional Area
Acting President - Denkyiraman Association of USA.