Did Nigerians Buy Election 2008 for NDC? – Part 2
Opinion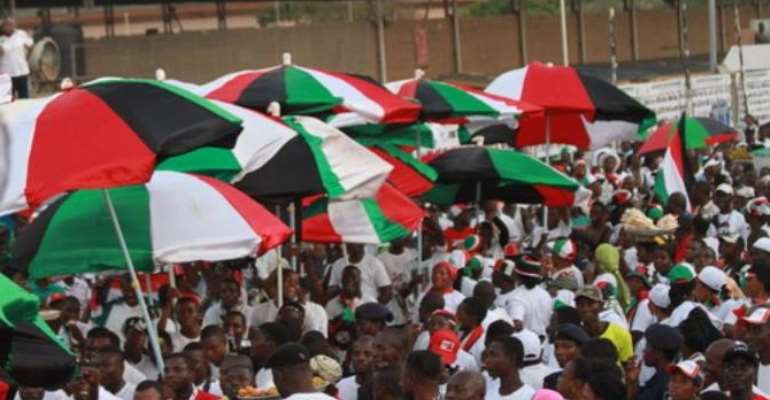 In the Bank of Credibility, the former Mahama High Commissioner to Britain may appear to be more generously endowed than his former boss and mentor, Chairman Jerry John Rawlings, if also because as I vividly recall, in the e-mail message dismissing Mr. Smith as his Special Assistant and Official Spokesperson, Chairman Rawlings had clearly articulated the fact that he had become utterly displeased by the fact that Mr. Smith had decided to follow the ways of then-Candidate Atta-Mills, who had increasingly begun to have a tense relationship with his former boss, kingmaker and doggedly hermetic promoter. Chairman Rawlings had thus sarcastically wished Mr. Smith Godspeed in his new-found career with the former tax-law professor of the nation's flagship academy, the University of Ghana, Legon.
I also vividly recall that the very public disagreement between boss and butler had been over the quite unusually assertive and independent decision by the mild-mannered Candidate Mills to select Mr. John Dramani Mahama, the former Rawlings Communications Minister and former National Democratic Congress' Member of Parliament for Bole-Bamboi. Interestingly, Mr. Mahama would also, based on his self-congratulatory rhetoric in the wake of President Mills' death, be widely rumored and accused of having had a hand in the seemingly mysterious demise of his former boss. I vividly recall this incident because shortly after Candidate Mills announced his selection of the Gonja native as his running-mate for Election 2008, Nana Konadu Agyeman-Rawlings, Ghana's longest-reigning First Lady, began to frenetically hop from one radio and television station to another, vehemently denouncing the decision and virulently insisting that the decision was tentative and would have to receive a final approval from the founding-father of the National Democratic Congress, to wit, Chairman Jerry John Rawlings.
"My husband has not approved it!" Mrs. Rawlings would scream her voice hoarse like a mad woman, or one who just learned about the tragic loss of the dearest person in her life. I also vividly remember this most embarrassing moment in Ghana's political culture because I personally wrote and published a number of articles heartily congratulating Candidate Mills for having made what then well appeared to have been the greatest and boldest decision of his political career.
You see, going into Election 2008, the widespread and vehement contention of both party loyalists and dissenters alike, was that Chairman Rawlings had staunchly, doggedly and consistently backed the candidacy of Prof. Mills because he intended to continue his constitutionally abrogated dictatorship through the Ekumfi-Otuam native. He had even made what became facetiously known as the "Swedru Declaration" which, in effect, firmly asserted that short of his abrupt or sudden demise, which was to come some four years later, it would be one and only Candidate Mills for the NDC's top electioneering ticket or an empty ticket.
In retrospect, it well appears that Candidate Mills was only a political stop-gap, a suavely strategic bait aimed at ultimately preparing the way for "President Nana Konadu Agyeman-Rawlings." The showdown would come two years later at the Sunyani Congress, when the Chairman and his longtime partner in the savagely bloody game of revolution would shamelessly, albeit unsuccessfully, attempt to ostracize, humiliate and wrest power from the visibly ailing and fast-declining President Mills.
You see, the bloody couple had crudely and recklessly attempted to use their widely acclaimed former stooge to witch-hunt and railroad some key operatives of the erstwhile John Agyekum-Kufuor-led government of the New Patriotic Party. As an astute and professionally trained lawyer, Prof. Mills had quickly come around to recognize the fiscally wasteful and strategic pointlessness of the entire proposition. Reality would dawn on him after the Mills government lost the first string of some three high-profile cases against former Kufuor cabinet appointees, including Dr. Akoto-Osei, the current Minister for Evaluation and Monitoring, in court. For the judge-slaying couple, abandoning their pet "Project Vengeance" was simply an anathema.
In this, it clearly appears that Mr. Smith's version of events leading to the inevitable parting of the ways between boss and butler is the more credible. A fast-aging and desperate Chairman Rawlings, used to having gullible fanatics lap up every guff he dishes their way, mistakenly decided last Sunday, June 4, on the 38th Anniversary of his bloody Housecleaning Exercise, that he could, somehow, once again, pull another fast one on these poor and wretched souls. Sorry, ancient, hulking shipwreck of a revolutionary. Oh, no, not this time around!
*Visit my blog at: kwameokoampaahoofe.wordpress.com Ghanaffairs
By Kwame Okoampa-Ahoofe, Jr., Ph.D.
English Department, SUNY-Nassau
Garden City, New York
June 5, 2017
E-mail: [email protected]