7 June 2017
|
Press Statement
NDC must reflect on the advice of HE Jerry John Rawlings on June 4 than running away - Friends of the Rawlingses
Friends of the Rawlingses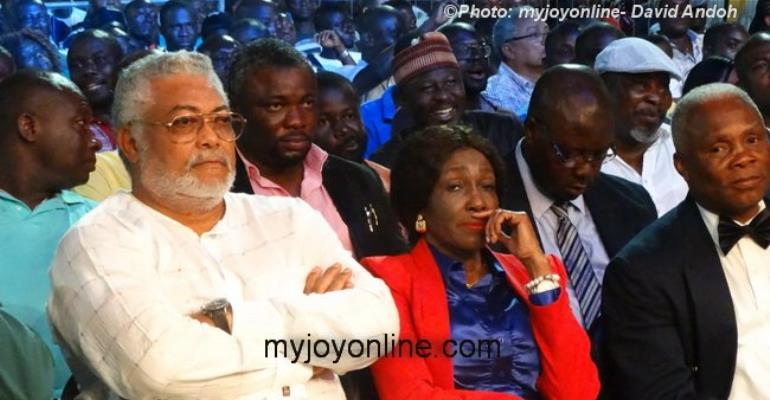 The June 4 anniversary commemoration, has yet presented a golden chance for NDC to use and make amends on many things the founder of the party, HE Jerry John Rawlingss identified and enumerated in his speech. We think, that's the best thing to do as a serious political party like NDC .
We share, stand and identified with him on all the problems he diagnosed in his speech, in the 38th June 4 anniversary commemoration .
The reactions,coming out from the aftermath of June 4 speech by the founder, from some NDC members don't augur well for a party that suffered a humiliating defeat in the last election. Instead of soberly reflecting on the issues raised by the founder, many have jumped the gun and going wayward and sometimes overboard, accusing the founder of false allegations.
We thought the party needed to be reminded once again about the values and principles that brought forth the party - The principles of probity and accountability that hinge and pin the party.
It's a core duty, and incumbent on every member of NDC, to embrace and guard these principles so that the NDC can identify and pride itself of an ideology, that abhors corruption and stands for truth,service to mankind and our nation.
We would like to give a stern warning to one Alhaji Osman Mohammed Awal, who's notorious for spewing garbage, to zip his unguarded mouth against HE Jerry John Rawlings.
This character, knows no shame at all. What's his stake in NDC!? Apart from his stupidity, what else can he contribute to the forward march of NDC?
There's one so-called media person, Alhaji Bature, the least said about him the better, making noise too.
Alhaji Bature should tell the whole country, why he ran from Bolga to Accra? We had a reliable information that this crook flee from Bolga to Accra because, he took some cash meant for some first division football club and Bolgatanga central mosque construction and bolted to Accra.
Can such a thief, who never spared even God's money , challenge anyone , or threatenes expose? Does he have any shred of respect anymore? Can he stand any moral microscopic test?
We are calling on all like- minded NDC party supporters to condemn some utterances coming out from few disgruntled members, who are hell -bent to twist facts and cause further cracks in the party,by doing everything possible to forment more trouble in the party.
It's our hope and wish that the numerous calls and admonitions by the founder, will be heeded to ,so that the NDC will be the winner in the end.
We call on cool heads to prevail in the party, concerning the founder's speech and rather invest time and energy on the issues raised by the founder, for a solution.
We are hereby, on this notice, warning all loudmouth commentators of NDC, to desist from attacking the founder. We shall advise ourselves accordingly if the insults don't stop.
We take this opportunity ,to extend our profound appreciation and gratitude to the following, for their magnanimous contributions towards the successful commemoration of the 38th June 4 anniversary celebration in Wa.
Hon. Haruna Iddrisu minority leader and mp for Tamale south,former defense minister Dr. Benjamin Kunbour,Dr. Kwabena Agyei,formal national chairman,former Trade minister Dr. Spio-Garbrah,Ricketts Hagan former deputy transport minister Mike Hammah,former health minister,Joseph Yileh Chireh,Ndc national treasurer Alhaji Abdallah Ahmed-Abdallah popularly called Alhaji P.M.C and other ndc bigwigs,the planning committee members both local and central,cadres and youth groups across the country.
Ibrahim Hardi,convener and spokes person,contact 0208235615.