Durbar held in Effutu to commemorate UN-World Environmental Day
News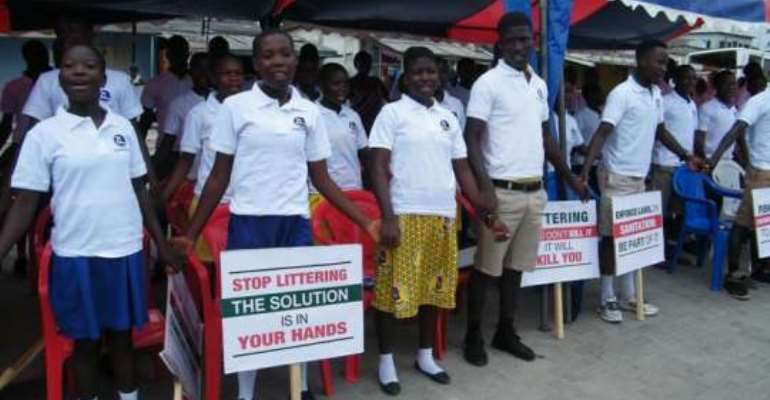 Winneba (C/R), June 7, GNA - Dr Toni Aubynn, Chief Executive Officer of Ghana Minerals Commission, has called on all to join the crusade at preserving and safeguarding water bodies.
He said if we cannot safeguard or improve it we should leave it in the way we met it for the unborn generation, rather than endanger them as water is an important resource that supports humanity.
Illegal miners now operate close to our communities and on the water bodies and we all need to say no to this challenge in our society, he said.
Dr Aubynn said this in a speech delivered on his behalf at a durbar organized by the Centre for School and Community Science and Technology Studies (SACOST) of the University of Education, Winneba, organised jointly with Shape Attitude Ghana a non-governmental organization.
The durbar held under the theme: 'Connecting People to Nature', was to commemorate this year's UN-World Environment Day and raise awareness on environmental challenges.
The assemblies which are the local policy makers, when it comes to issuing of permit to operate, sometimes allow such miners to operate unchecked, he said.
Dr Aubynn said many of the water bodies in the country have been polluted and this has created insecurity in certain areas hence the need to join in the fight against the menace.
Professor Jophus Anamuah-Mensah, Director of Institute of Educational Resource Institute of Studies (IERIS) of UEW, said the commemoration of the Day is also a call for all to go outdoors to admire and appreciate nature.
He said the country's education has been designed to develop a well-balanced personality, but emphasis has been placed on knowledge and information to the neglect of the need to appreciate the natural environment.
Natural environment is real and an important part of our daily lives, its covers the water we drink, the air we breathe and the food we eat, these sources should be protected from being abused, he said.
Earlier in the day, school pupils who participated in the event went on a float through the principal streets of the town carrying placards with inscriptions like: 'trees support life protect them', 'don't litter keep the beaches clean and attractive' and 'enforce laws on sanitation'.
GNA