We release clean waste into environment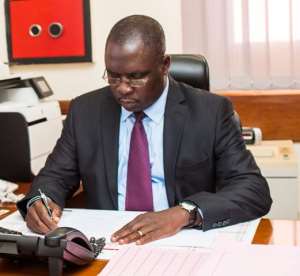 By Alexander Nyarko Yeboah
Tema, June 6, GNA - Mr. Amos Donkoh, Managing Director, Tema Lube Oil Company Limited, says the company treats its liquid waste before releasing them into the environment.
'We have installed a treatment plant that treats all the liquid wastes coming out from our plants before it goes into the environment. We have invested heavily in the treatment plant to ensure that our activities do not damage the environment,' he said.
Mr Donkor was participating in a free health screening and medical outreach programme organized by Lube Oil as part of the Company's 25th anniversary celebrations during which over 500 residents screened.
The celebrations which was on the theme 'celebrating 25 years of producing quality lubricants at affordable prices' included the health screening in their list of activities as part of Lube Oil's corporate social responsibility towards the Tema Newtown community.
"This is a way of giving back to the society or community we operate in and I believe this will impact on the Tema Newtown community,' he said.
In an interview with the Ghana News Agency, Mr. Donkoh said the company blended oil for companies that operated internationally so the quality of the products they produced met international standards.
'That is why we meet all the standards set by the Environmental Protection Agency (EPA), Ghana Standards Board (GSB), International Standardization organization (ISO), etc.,' he indicated.
'What we do is to optimize our operations; we don't put in too much cost so we can utilize our resources more efficiently for the product that comes out to be less expensive,' he explained.
Mr. Donkoh said that the contribution of Lube Oil Ghana Limited to the economy of Ghana could not be overemphasized adding that the company had saved Ghana a lot of foreign exchange by producing high quality mixed oil products.
He advised Ghanaians to buy Lube oil products which were sold at most petrol filling stations because they were of the best quality.
'It means you are buying made in Ghana goods. We conserve foreign exchange so we can create wealth for the country,' he said.
Mr. Emmanuel Kwesi Eyison, a resident of the Newtown community, who participated in the screening exercise, believed it was a good thing because "it's not everybody who can get money to go to hospital, so if a free opportunity comes it helps the poor."
Madam Mary Enu, also a resident, was happy this opportunity came for her to screen her little daughter, Blessing Boateng, who had an eye problem but had no money to go to hospital. GNA