Fulani Herdsmen Fined GHC20,400.00 For Destroying Reserve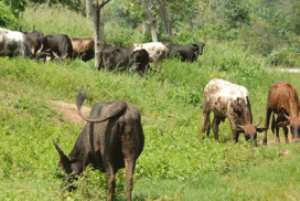 Three Fulani herdsmen have been fined GHC 20,400.00 for illegally entering a forest reserve with their cattle to graze.
Umar Gariba, Umar Sumana and Umar Barikia would spend six months in prison, should they fail to pay the money.
They were were also ordered by the court to vacate the reserve within two days.
The convicts were charged with illegal entry and destruction of forest reserve and they all pleaded guilty.
Police Detective Princeton Peasah Darkwah told the court, presided over by Mr. Frederick Tetteh, that they were arrested on May 24.
The District Manager of the Forest Services Division (FSD) of the Forestry Commission (FC), Mrs. Rebecca Baning Oppan, received information that the herdsmen had settled in the Dome Forest Reserve with their animals numbering about 500 and causing extensive damage to the reserve.
She proceeded to the place with officers of the FSD and the information proved correct.
A formal report was made to the police and they were arrested.
The court directed that GHC 15,000.0 of the fine when paid should go to the FC as compensation.