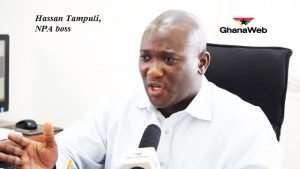 The National Petroleum Authority (NPA) has donated One Hundred and Fifty Thousand Ghana Cedis (GHS150, 000) to the Western Regional Coordinating Council to aid in the treatment of victims of the May 9 gas explosion in Takoradi.
Presenting the cheque to the Western Regional Minister, Dr. Kwaku Afriyie, Chief Executive of the National Petroleum Authority (NPA), Alhassan Tampuli noted that: "As a regulator of the downstream industry, we are concerned about the safety of industry players and consumers. We are working to improve the situation.
"We must all join hands to see our industry become safer. It is also our social responsibility to assist the victims in times like this" he added.
"We were devastated when we heard the news. We will ensure that safety standards are adhered to by both service providers and consumers'', Mr Alhassan Tampuli said.
Also present at this brief ceremony was the Deputy Western Regional Minister, Mrs. Gifty Eugenia Kusi, who doubles as the chairperson of the eleven (11) member committee tasked to investigate the Takoradi Gas explosion.
The Chief Executive of NPA, Alhassan Tampuli, used the occasion to commend the Western Regional Coordinating Council for their support and regular visits to various hospitals to ensure that the victims are treated well.
Receiving the donation, Dr. Kwaku Afriyie expressed his gratitude to NPA for the gesture and said the donation would go a long way in paying for the bills of the victims.
He assured that all donations will go to support the victims. "We will make sure it goes to the hospitals for their intended use" the Minister said. He also appealed to other organisations to support the victims.
It will be recalled that on Tuesday, May 9, a stationary gas tank and a gas discharging tanker both exploded at the Ghana Household Utilities Manufacturing Company Limited which left over a 100 people injured along the Sekondi-Takoradi highway, including some fire fighters who attempted to fight the inferno.
Most of the victims were admitted to hospitals; including the Effia Nkwanta Regional Hospital, the GPHA Hospital, the Takoradi Government Hospital, the Cape Coast Teaching Hospital and the 37 Military Hospital in Accra.