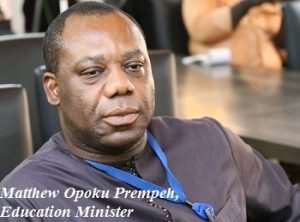 The Education Minister, Mathew Opoku Prempeh, has disclosed the government's intention to make French and Arabic common languages to be studied at schools and spoken in the country.
Though French language is part of courses that are studied in schools, the Minister believes that more emphasis needs to be place on the study and speaking of the language.
According to the Minister, it was imperative for the citizens to adopt French as part of their official language, since Ghana is surrounded by Francophone countries, saying, "Our neighbour countries speak French, so should we. As part of the thought, we want to introduce Arabic as a common language, examinable course at our secondary level education."
To bridge the gap between academia and the industries, Mr. Prempeh indicated that the government had initiated a plan to make technical and vocational training an integral part of the country's educational system.
He said though the Ghana hosts three African Centres of Excellence, the President has given consent to tertiary institutions to participant fully in partnership for skills in applied technology, engineering and science.
The Education Minister was speaking at the opening of the 14th General Conference and Golden Jubilee celebrations of the Association of Africa Universities (AAU), hosted at the La Palm Royal Beach Hotel, Accra.
The four-day event is dubbed "AAU @ 50: Achievements, challenges and prospects for sustainable development in Africa", and had in attendance about 500 professionals, chancellors and lecturers of universities in Africa, and development partners.
The participants would deliberate on achievements, challenges & prospects of higher education, higher education for innovation, employability and entrepreneurship and elements of higher education sustainability.
The President of the AAU, Prof. Orlando Quilambo, also announced that a scholarship and innovation fund had been designed to support students to acquire Doctor of Philosophy (PhD).
He said the continent can only boast of 10,000 PhDs that had been produced over the past decade, and that more efforts need to be put in to have more individuals graduating with doctorates.
Prof. Quilambo added that the conference would further reflect on how academia can design programmes to support agriculture, health and entrepreneurship.
Giving a brief history of the AAU, he said the union was established at Morocco in 1967, with a few universities as registered members, before the headquarters was later re-located to Accra, Ghana, in 1971.
Currently, the AAU has 386 universities from 46 countries from Africa, and one outside as registered members.
He was grateful to the Ghana government for the construction of a two-storey ultra-modern building, which was officially opened on January 5th this year.
By Bernice Bessey