'GJA Must Be Saved From Collapse'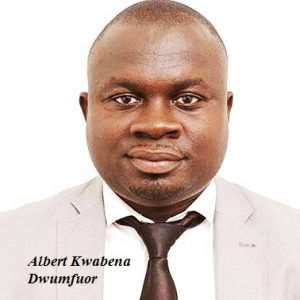 Albert Kwabena Dwumfuor, an aspiring Organising Secretary in this year's Ghana Journalists Association (GJA) executive elections, has expressed concern over the increasing matters arising, in view of the impending elections.
He reiterated that the GJA is experiencing trying times that threaten to impede the association's progress, and, in the long run, tarnish its credible image.
The prospective Organising Secretary stated emphatically that his call for peace and resolve of the disputes emanating from within the GJA was devoid of politics.
He said: "I cannot sit down unconcerned for the issues to get out of control, and sink our association into oblivion. I have the duty to safeguard the hard-earned integrity of the association, which represents the Fourth Estate of the Realm.
"My position should, however, not be misconstrued to mean that I am treading on this path because I am a contestant. It should rather be seen in the context of a stakeholder, who sees the interest of the association as paramount to all journalists – both registered and unregistered members in the country," he said.
Mr Dwumfuor believes that the only panacea to the problem at hand is a stakeholders' meeting, which would comprise "all affected parties – aspirants, seasoned and senior journalists, Council of Elders and the two main committees (Adjudication and Election committees)-which have a direct influence on this year's G.J.A elections."
Contained in a press release issued in Accra, June 6, Mr. Dwumfuor further explained that the stakeholders' meeting would address grievances of the affected parties, and afford them the opportunity to present possible lasting solutions to the election impasse.
He, therefore, urged all stakeholders and members, as well as all the other aspirants, to hold hands in unity and the spirit of progress, and help the association settle all misunderstandings and block potential impediments.
"A successful stakeholders' meeting could address issues bothering some key members and stakeholders of the association, and to neutralise emotions and sentiments, calm tensions and broker peace," he concluded.
By Suad Yakubu