Gov't To Revamp Abandoned Warehouses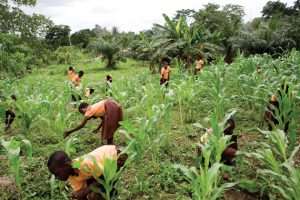 …To Boost Planting For Food & Jobs Policy
Work has already begun on the refurbishment of state-owned warehouses across the country, as the Ministry of Food and Agriculture prepares for an expected bumper harvest from the Planting for Food and Jobs campaign.
The National Food Buffer Stock Company (NAFCO) is leading the charge to revamp over 100,000 metric tonnes capacity warehouses throughout the country.  President Akufo-Addo, at the launch of the flagship Agricultural Policy, "Planting for Food and Jobs" campaign on April 19th, 2017, at Goaso in the Brong Ahafo Region, revealed the government's plans to create additional capacity warehouses across the country to store excess produce.
The government, additionally, intends to construct 1,000 capacity warehouses in each of the 216 districts, as this administration moves to tackle food security, modernise the agricultural sector, and also create jobs for the teeming youth in the country.
The Food and Agricultural Ministry, under the leadership of Dr. Owusu Afriyie Akoto, has commenced earnest preparations towards realising this dream. A three-member committee, headed by the Acting Chief Executive Officer (CEO) of NAFCO, Abdul Wahab Hannan, has almost completed assessment visits to all abandoned cocoa sheds across the country, which are expected to be converted into warehouses for food storage.
The committee has, so far, visited the Brong Ahafo, Western, Central and Volta regions. The members are expected to visit the Ashanti and Eastern regions in the coming weeks. The feasibility visit was to enable the Committee ascertain the availability, conditions, capacity, and extent of work needed to be undertaken, in order to bring these sheds into shape for operation.
The Acting CEO, in a brief interview, said the committee had identified hundreds of abandoned cocoa sheds, with an anticipated capacity of more than 100,000 metric tonnes. He, therefore, pledged that work will soon begin on their refurbishments, once the second phase of the feasibility study is completed.