Sunyani Agric Bank Customers Escape Death
News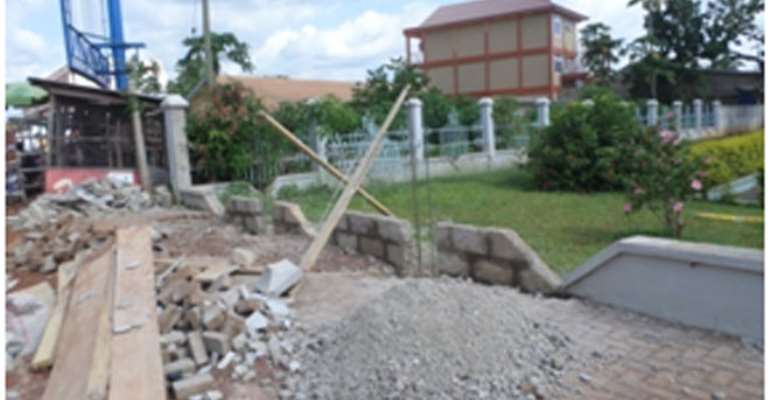 SOME CUSTOMERS of the Agricultural Development Bank (ADB) at Sunyani in the Brong Ahafo escaped death last Friday evening when an articulator truck negotiating a roundabout near the bank ran into the premises of the bank and rammed into some of its fence walls.
The articulator truck with registration number GT 7352 Y loaded with rice and other assorted goods belonging to Chambee Trading Enterprise at Sunyani was heading towards the company's warehouse when it developed a faulty brake resulting in the incident.
Chief Inspector, George Takyi of BA MTTD, confirmed the accident and said, the driver, Kwabena Damoah has been arrested and is helping the police in their investigations. He, however, said luckily there were no casualties except that the fence walls were broken and the company was asked to foot the bill of their reconstruction. He explained that, the truck which was heading towards the Regional Coordinating Council was crossed by a taxi at the roundabout and in an attempt to avoid hitting the cab, the articulator driver applied the brake abruptly bursting the brake pot in the process leading to the truck's free run into the bank.
The branch manager of the bank, Charles Eshum, said they were just lucky it happened during the wee hours of last Friday saying there was no customer at the bank then. He said even if workers or customers of his bank were not hurt, the lives of other persons or visibility police personnel who normally stay around the roundabout would have been in danger.
Chief inspector Takyi said the company (Chambee) has been asked to reconstruct the walls which they have already started but indicated that investigations are still ongoing.
[email protected]
FROM Daniel Y Dayee, Sunyani