Ex-President Kufuor Commends Raising Readers Initiative
News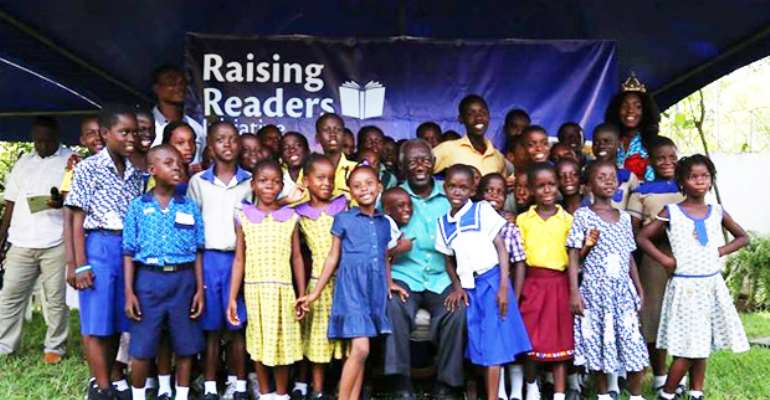 Former President John Agyekum Kufuor has lauded Raising Readers Initiative for supporting children in the country to improve their academic performance and broaden their minds through the reading of books.
Mr. Kufuor, who hosted 50 children from the Odododiodio Constituency at his residence in Accra to read with them, said: "Reading is the first tool of education, and I am happy that children will benefit from this arrangement by the Tigo Shelter for Education programme and Raising Readers Foundation to encourage and cultivate reading among Ghanaian children."
"The wisdom of elders is captured in books and in reading, we learn wisdom through what others have put in books. If you want to be a bright student or pupil, you must learn to read," he added.
The former President, who applauded the progress made so far by the initiative, urged children aged between 6 and 13 to take reading seriously, as it was one of the ways for them to gain wisdom and insights into the world around them.
Passionate about education, Mr Kufuor called on parents and teachers to assist children in cultivating the habit of reading at an early stage.
"We see that language is changing, but let us not rush children through the early stages of education on abbreviated words and slangs. Let them learn to read properly in the traditional way and then learn to do their Maths properly before we resort to the use of IT."
He also used the occasion to donate books to the children and encouraged them to make good use of the resources.
The Raising Readers Initiative is a partnership between Tigo's Shelter for Education programme and Raising Readers Foundation, a Non-Governmental Organisation (NGO) that is committed to encouraging children to read and supported by Cowbell, Zoomlion and EIB Network.
Since the launch in April 2017, the initiative has benefited over 800 children in the Odododiodio Constituency, and seeks to reach out to children in other constituencies in the coming weeks.
It has also received support from journalists, authors, child advocates and head of public institutions such as Blogger Ameyaw Debrah, NCCE Chairperson, Josephine Nkrumah, TV personality Baisiwa Dowuona-Hammond, Sports journalist, Michael Oti-Adjei, among others, who serve as reading ambassadors.