Accra Brewery, Residents Clean Adabraka
Business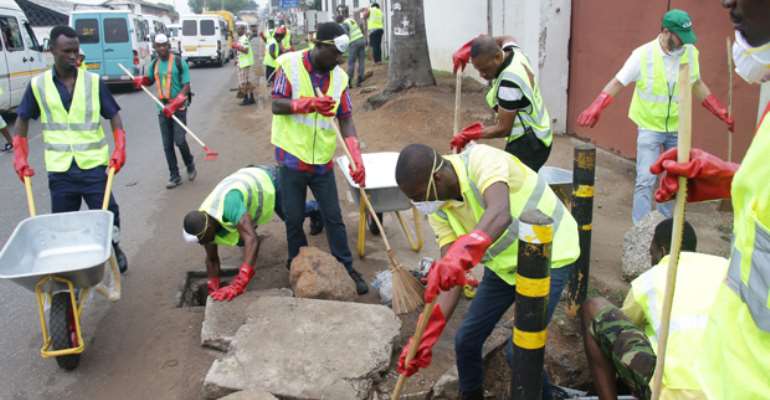 Accra Brewery Limited (ABL) has commemorated World Environment Day, with a call on Ghanaians to desist from practices that degrade and pollute the environment.
The high point of the commemoration was a donation of GH¢10,000.00 worth of sanitation equipment to the Adabraka community.
Prior to the donation, some residents cleaned up portions of the Graphic Road in Accra.
For three consecutive years, Accra Brewery Limited has been donating sanitation equipment to communities surrounding its brewery in the South Industrial Area of Accra.
This year, the Adabraka community received refuse bins, wheelbarrows, rakes, brooms and hand gloves.
Country Director of Accra Brewery Limited, Phillip Redman, who donated the items, reaffirmed ABL's commitment to upholding and improving positive environmental practices within its operational enclave.
While acknowledging that sustainable environmental practice is at the heart of the company's operations, he commended the media for picking on the issue of environmental preservation and making same top on their agenda.
Speaking on the sidelines of the event, Mr. Redman said the occasion of the World Environment Day was consistent with one of their core social interventions under the "Bringing People together for a Better World" agenda hinged on three main themes: 'A Cleaner World, A Healthier World and A Growing World'.
The Adabraka Atukpai Mantse, Nii Tetteh Adjabeng II, commended ABL, adding that "we are looking forward to the upcoming free health screening exercise."
The World Environment Day is marked annually on June 5.
It is aimed at harnessing and transforming individual actions into a collective power that has a legacy of real and lasting impact on the planet.
Over the years, it has grown to be one of the largest global platforms for public outreach celebrated by over a million people over 100 countries.