B&FT, Dalex Finance Grooms Young Entrepreneurs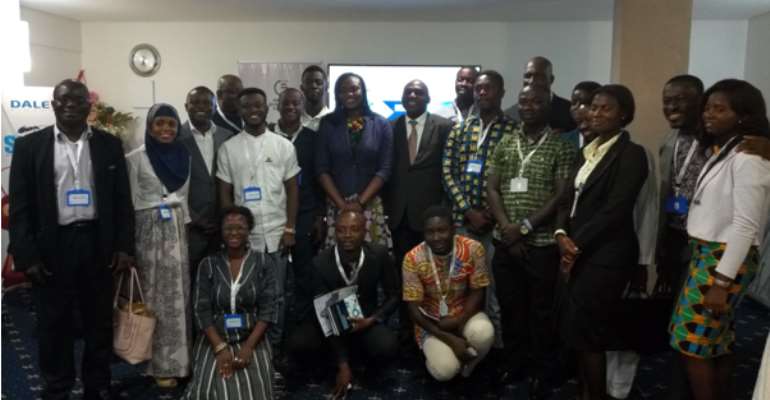 Young Ghanaian entrepreneurs were full of passion audibly after been taken through a oneday mentorship programme to boost their will power and business acumen to excel in their world of business.
These 20 innovative young men and women entrepreneurs were already into various businesses such as local manufacturing of shoes, food drinks, building and construction using local materials, Web and Digital Marketing, Coconut production, distribution of excellent books, Pineapple production and many others were aimed at adding more value to their products and services.
Speaking at the official launch of the Ghana Economic Forum NextGen Business Leaders Network, the Chief Executive Officer of Business and Financial Times (B&FT), Edith Dankwa said the objective of this network is to equip the next generation of business leaders with the necessary support that will give them the competitive advantage to grow their business in a global marketplace.
She noted that members of this network will be offered business support and advisory services, mentorship as well as engage in networking sessions and training workshops with seasoned business leaders all year round.
Mrs. Edith Dankwa, a very successful business leader added that the Ghana Economic Forum Secretariat to be championed by Ghana Economic Forum (GEF) stakeholders and winners of the GEF Excellence Awards will also undertake various projects in this year to ensure the implementation and sustainability of this Ghanaian owned economic agenda.
The CEO of Dalex Finance, Ken Thompson, a winner of the GEF Businessman of the year in 2016, who mentored these young entrepreneurs advised them to build strong networks and establish a good relationship with clients in order to become the prefered brand in the country.
He urged them to operate to the highest standards in order to cease the opportunities that exist in the business environment to become successful.
According to him, since the last four years his business has grown from a turnover of 29million to over 130 million and a staff strength of 110 (Corporate sales and executives) to over 2200 in difficult economic environment .
Mr. Thompson encouraged the team to dream big and believe in the magic of their dreams which can always lead them to the top of their businesses.
"We've sacrificed our success on the altar of strategy and B&FT itself has provided a platform for us to be able to share our ideas," he stated.
The CEO of Dalex Finance posited that the future of this country will never be secured unless we secure the future of our children.
"It is important we teach and share with our young ones because the currency of life is human beings. This country will only prosper if we empower the private sector and so far I have not seen that empowerment. This country will only prosper if we empower the private sector and the future is in the youth," he intimated.
The Founder and Board Chairman of Berock Ventures Limited, Rockson Kwesi Dogbegah stressed that the initiative is good and he is also very excited tough business leaders like Dalex Finance is leading and developing the youth to grow their businesses.
Addressing the team, he said, "this is an opportunity for you and you must not take it likely. My observation is that most of the youth only come to listen to all the best ideas but went home to sleep on it."
He advised them to put up a strong good business attitude and the urge to lead the pack by providing excellent products and services to clients. `
"We are there to support you but the key is that your attitude. Everything is about attitude and if you want to succeed you can and if you want to fail you will fail and for that matter the choice is yours," Mr. Dogbegah noted.