Minister leads delegation to broker peace between Adina residents and salt mining company
News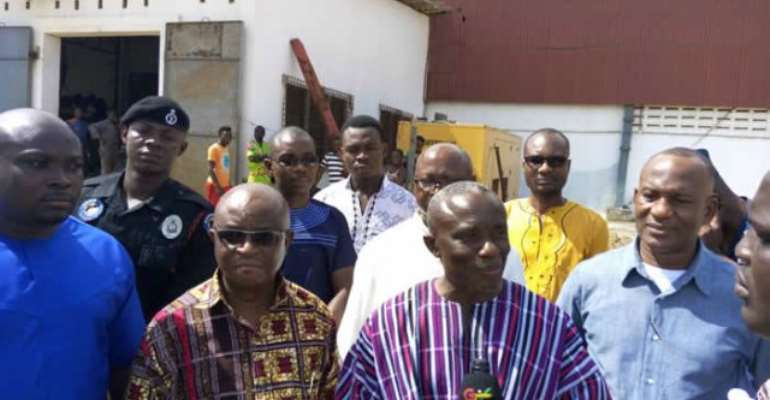 Volta Region Minister, Archibald Letsa, on Tuesday, led a team of negotiators to broker peace between residents of Adina, in the Ketu South Municipality and owners of Seven Seas Salt Mining Company.
The negotiators include the Ketu South Municipal Chief Executive, Edem Agbenorwu, representatives from the Peace Council, the Community Water and Sanitation Agency (CWSA) and the Police.
The delegation met with the Chiefs, Opinion Leaders and youth groups of the area in a bid to finding a lasting solution to the impasse between the Adina indigenes and the salt mining company.
Demonstrations in March this year over the activities of the salt mining company led to one death.
Residents of Adina, a fishing community, say the activities of the salt mining company are robbing them of their livelihood and polluting fresh water sources.
The Minister pledged government's commitment to making sure that regulatory agencies take up the concerns of the residents so as to improve investor confidence in the region.
Dr Letsa also appealed to the chiefs and youth of the area to remain calm while the government works to find a lasting solution to their concerns.
Director Community Water and Sanitation Agency, Worlanyo Kodzo Sabi, assured the chiefs and people of Adina that his technical team had finished an assessment of the water system in the community and the recommendations made will soon be acted upon since water is a very important commodity.
The MCE for Ketu South, Edem Agbenorwu, also said the Assembly will seek the interests of the residents, and commended the effort of the negotiation team to broker peace.
Some residents told Joy News that although the assurances are a good first step to resolving the long-standing issue, they demand an urgent solution.