Mahama's Galamsey Underbelly Is Not Pretty At All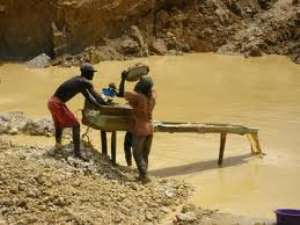 The original caption for this article was "How Can Major Oduro Be So Sure?" because it is based on a news report in which the Deputy Minister of Defense, Major Derek Oduro (Rd), is reported to be contradicting the Lands and Natural Resources Minister that the attempts being made to completely halt illegal mining activities are being significantly impeded because some armed personnel from the Ghana Armed Forces (GAF) are providing protective cover for foreign-owned Galamsey companies (See "There're No 'Galamsey Soldiers' – Derek Oduro" Classfmonline.com / Ghanaweb.com 5/23/17).
This is rather curious because Mr. John Peter Amewu's account is informed by first-hand eyewitness experience. The Lands and Natural Resources Minister has actually espied with his own naked eyes, as it were, heavily armed military personnel from the Ghana Armed Forces who are protecting illegal Russian and Ukrainian mining companies in the country. I also don't suppose that Major Oduro, who is also the ruling party's Member of Parliament for Nkoranza-North, in the Brong-Ahafo Region, wants to half-imply by any stretch of the imagination that Mr. Amewu was under the proverbial influence when toured the Galamsey littered parts of the country.
These illegal foreign-owned mining firms were laying our water bodies and lands and forestry resources to waste long before the Akufo-Addo Administration appeared on the scene. Major Oduro tells us that conversations with the Chief of the Defense Staff indicates the certain absence of any authorized military personnel in the Galamsey business. In other words, by the lights of Major Oduro, any active-duty military officer or enlistee engaged in the protection of Galamsey companies must, perforce, be doing so privately, and not as a result of any authorization from the GAF's High Command.
But, of course, we know from previous news reports in which former Defense Minister under the watch of President John Dramani Mahama, Dr. Benjamin Kumbuor, is quoted to be saying that he had been fully aware of the involvement of military personnel in the concessionary protection of Galamsey companies, although he personally never gave any permission or authorization for such high-powered involvement. According to Dr. Kumbuor, any soldier "legitimately" involved in the protection of Galamsey companies may very well have received his or her marching orders from the GAF's Military High Command, because even as Defense Minister, he never directly instructed the GAF's Military Command.
Now that leaves us with only one definitive answer, namely, the Commander-in-Chief of the Ghana Armed Forces during the period under review. And that personality, of course, is none other than former President John Dramani Mahama! Investigations into the activities of the recently arrested Russian and Ukrainian illegal miners, in the Asante Region, ought to offer us some telling clues as to who has really been behind the scandalous use of personnel from the Ghana Armed Forces in the protection of foreign-born polluters of our water resources and the wanton destruction of our environment or ecological system. And then the most effective policy measures and initiatives could be deployed to solve this conundrum that seriously threatens the stability of our very existence as a nation and a people.
*Visit my blog at: kwameokoampaahoofe.wordpress.com Ghanaffairs