Prez Akufo-Addo Says It Bluntly: World Bank Can't Dictate To Africa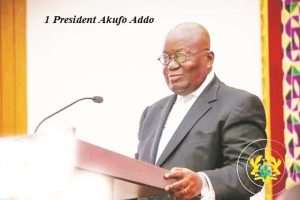 President Addo Dankwa Akufo-Addo has advised African leaders against the practice of relying on the World Bank and other foreign agencies to decide on the educational needs of Africa. 
In view of this, the President said the continent's leaders should turn down agreements that seek to set educational priority for their respective countries.
"We must set our own priorities, and we must set them to transform into reality," he said.
Nana Addo's call was in response to the call by the Association of Africa Universities (AAU) that the World Bank and other foreign agencies interfere in the continent's higher educational system. The President, consequently, entreated the AAU members at a gathering at the La Palm Royal Beach Hotel, Accra, on the occasion of the 14th General Conference and Golden Jubilee celebration, that there should not be any condition for governments to choose between primary and tertiary education.
"We never have to make a choice between primary education and higher education," he urged.
The conference is a four-day programme, under the theme: 'Achievements, Challenges and Prospects for sustainable development in Africa'.
Continuing, President Akufo-Addo questioned why the continent's educational system was not responding to industry needs and demands.
He, consequently, blamed the African universities' inability to conduct ground-breaking researches, and lack of interest to prioritise Science and Engineering.
Though the AAU was celebrating 50 years of its establishment, to Nana Akufo-Addo, it has not accomplished much to enable the continent rub shoulders with its competitors, saying: "We are not doing very well in research, science and engineering. It is not surprising that we are not meeting demands of the labour market.
"We have to make a deliberate effort to prioritise the teaching of science and mathematics, and turn engineering into a popular subject to attract young professionals."
In this regard, he urged the union to enter into collaborations for the quality insurance and harmonisation of qualifications.
The AAU executives' response to academia churning out products that do not meet the demands of industry said: "Governments should not blame the academia for this misfortune, since the political heads have not provided any industry for the graduates to demonstrate their expertise."
According to them, almost all the industries that operate on the continent are multinational companies that take orders from their mother companies, adding that what the Africans need to transform the educational sector is political will and good governance.
Professor Qrlando Ouilambo, President of AAU, added that for the continent's educational system to be science and technology-oriented, there was the need for primary education to be re-designed to direct students at the early stages to have an interest in these prime courses.
He said: "It is wrong for governments to charge higher institutions of learning to address the lack of interest in science and technology, because, at that stage, most students have made up their minds about what career they want to go into…it is too late in our cry for science."
So far, African universities have produced 25 per cent graduates in the , and 75 per cent in the humanities, Professor Quilambo mentioned.
He was, however, hopeful that the situation could be turned around, should governments place emphasis on science at the primary level, and support institutions of science and technology.
Concluding, he said: "If public leaders will plan very well by prioritising the educational needs and shunning corruption and the mantra of governance, the educational sector will benefit."
By Bernice Bessey