Kintampo DEC Urges BECE Candidates To Eschew Exam Malpractices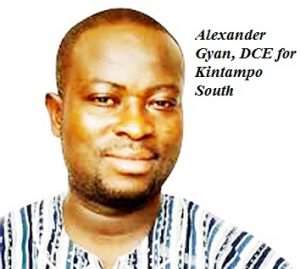 The District Chief Executive for Kintampo South, Alexander Gyan has urged candidates writing the Basic Education Certificate Examination (BECE) to be focused and eschew all forms of examination malpractices that have the tendency to jeopardize their quest for high educational laurels.
Mr. Gyan noted that the BECE is the determinant whether to further pursue the education ladder and that as candidates they must be serious and pass very well, in order not to be dropouts.
The DCE was addressing the candidates when he visited the examination centres in the district.
Mr. Gyan, who before his appointment as the DCE was annually supporting the candidates and their teachers with free transportation and feeding, hinted that as the Chief Executive, one of his major priorities was to help improve the standard of education in the area.
His over four years gesture of provision of food and transport has helped relieve most parents, guardians and BECE candidates from financial pressure.
The DCE used to provide accommodation for the candidates and their teachers when they had to travel from far away communities to the examination centres. He also provided them with free breakfast and lunch throughout the duration of the examination.
Alexander Gyan started the philanthropic work in 2014, after he contested and lost in the NPP parliamentary primary in the Kintampo South Constituency, and has since continued till now, from his own pocket.
According to Mr Gyan, one does not necessarily become a political leader before giving back to his community, stressing: "I have a responsibility as an indigene of this area and not because I am a DCE."
He charged the supervisors to be fair and vigilant in their invigilation in order not to put fear and panic in the candidates, but guard them well in a professional way with the necessary encouragement to write the examination with a clear conscience.
The DCE assured that more measures would be instituted to assist students within the area to achieve their goals in the academic pursuit.
From Michael Boateng, Jema