Ho MP Advises BECE Candidates To Be Disciplined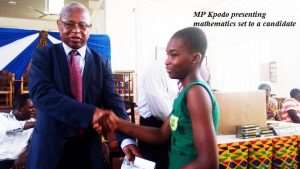 The Member of Parliament (MP) for Ho Central, Benjamin Kpodo, has advised candidates sitting this year's Basic Education Certificate Examination (BECE) in his constituency to be disciplined before, during and after the exams.
By being discipline, the MP told the candidates to avoid any form of examination malpractices which would have dire consequences in their life. Therefore, he urged the candidates to remain focused and write with confidence.
Benjamin Kpodo gave the advice when he toured some of the schools in his municipality to present writing materials to the BECE candidates to spur them on in their final examination.
He said: "Your parents and other stakeholders have played their roles to ensure that you have the peace of mind to study.
"They helped you in the provision of teaching and learning materials, therefore, the time has come for you to justify the investment made in you by convincingly passing your final examination."
In order not to see any student re-sitting their BECE after their first attempt, Mr. Kpodo said he organised mock exams for all candidates in the Municipality to prepare them for the final examination.
With this, and other series of examinations organised by the schools for the students, he said, were enough preparatory examinations for the candidates to enable them pass this year's BECE with better grades and gain admission into Senior High Schools (SHS) of their choice.
Mr. Kpodo also appealed to parents to support their wards during the examination periods to enable them to enjoy the needed peace that would urge them to perform creditably.
He said: "The future looks bright for these young ones, but it will take hard work and determination from them to become successful adults in future. They, therefore, need the peace of mind to study during these periods."
The Ho Municipal Director of Education, John Teku, mentioned that a total of 2,587 candidates registered for the BECE,
Out of the number, 1,330 are girls and 1,257 are boys, adding that the candidates were all from 90 public and private schools in the Municipality with 10 examination centers.
Mr. Teku, thus, thanked the MP for the gesture, which he noted would go a long way to motivate the candidates to work hard.
He reiterated: "Education holds the key to the future, therefore, the success of the students' will prepare a better future for them in their education."
From Samuel Agbewode, Ho