All registered candidates show up to write BECE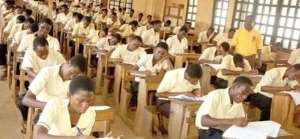 Koforidua (E/R), June 06, GNA - All the 379 candidates, who registered to sit for this year's Basic Education Certificate Examination (BECE) at the Pope John Senior High and Minor Seminary Centre showed up to write the first papers.
They are made up of 167 males and 216 females.
Mr Richard Attakora, the Head of the Examination Centre, confirmed this to the Ghana News Agency (GNA) and said it had so far been incident-free.
Many of the candidates, who spoke to the GNA were in high spirits and expressed optimism about the outcome.
Bismark Ofori and Samuel Appiah, both of the Peace Junior High School (JHS), said they were able to answer the questions.
Felicia Ansong of the Sarkodae JHS, said although she had some difficulty understanding the literature aspect of the English Language, she was confident of making it.
Israel Opata of the Nana Oware Agyapong M/A JHS at Nyamekrom, said he was happy about how things went.
GNA
By Albert Nkrumah/Emmanuel Apea-Out, GNA