Fallen soldier: One more suspect arrested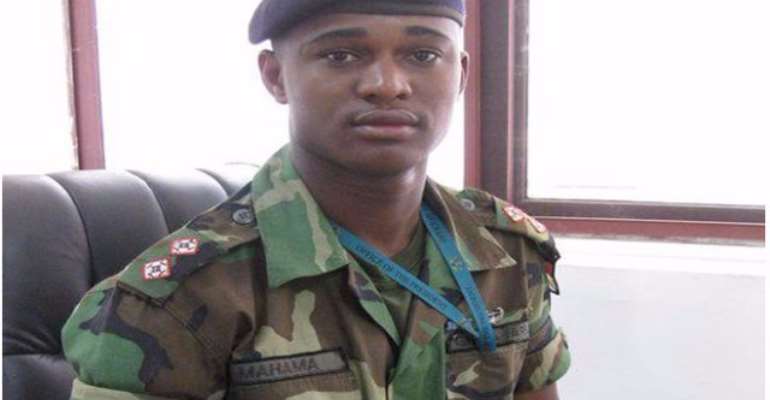 One more person has been arrested in connection with the lynching of Major Maxwell Adam Mahama in Denkyira-Obuasi in the Central Region on May 29, 2017.
The suspect was picked up at Nyinahin in the Ashanti Region on Monday, June 5, where he had gone into hiding.
Deputy Head of Public Affairs at the Ghana Police Service DSP Shiela Packman who confirmed the arrest said the suspect will be sent to court later today.
According to her, the police will be asking the court to remand the suspect pending further investigations.
This brings to 42 the total number of suspects arrested in the wake of the ghastly attack and murder of Captain Mahama who has posthumously been promoted to the rank of Major.
He was clubbed, stoned, stripped and torched by community members in the Denkyira-Obuasi in the Central on a suspicion that he was a thief. He had been sent to the community on official duties.
A police report said the deceased had gone on jogging that fateful morning with his pistol strapped to his side pocket but a group of women on seeing the pistol blew an alarm and called the Assembly man of the area who mobilised the youth to lynch the young military officer.
Reactions to the murder have been that of national indignation with the family of the deceased demanding justice for the fallen soldier.
With the filming and sharing of the murder incident by the attackers, the arrest of the suspect has been swift.
On Monday, 34 persons were remanded by an Accra District Court to reappear on June 21, 2017. Some seven suspects had early on been remanded.
DSP Packman said the police administration still has some suspects who will soon be granted bail because they could not directly be linked to the murder.
She said those suspects will be monitored closely even after their bail conditions have been satisfied.
One Week Celebration
On the occasion of the one-week celebration of the murder of the Army Officer, the President, Nana Akufo-Addo announced a full state burial for the Captain who has now been promoted to Major on the advice of the Chief of Defence Staff.
Announcing the promotion, the president also said a Ȼ500,000 trust fund will be set up for the family of the late Mahama.
He left behind a wife, Barbara Mahama and two children.
Story by Ghana|Myjoyonline.com|Nathan Gadugah