Military Raid Manso Tontokrom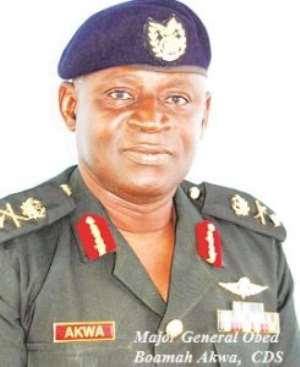 Residents of Manso Tontokrom in the Amansie West District of the Ashanti Region had it tough last Sunday, when military officers raided the town and allegedly beat anybody they could lay hands on.
The heavily armed soldiers, numbering about 20, descended on the indigenes in pursuit of suspects involved in the murder of Captain Mahama at Denkyira-Boase, who had gone to seek refuge in the village.
An eyewitness, Nana Yaw Mensah, an indigene of Tontokrom, told The Chronicle that the military raided the community at 9pm in two military vehicles and one pick up vehicle.
According to Nana Mensah, a lot of the youth were assaulted, a development which resulted in some of the people sustaining injuries.
He told The Chronicle: "The invasion by the military has seen Basic Education Certificate Examination (BECE) candidates fleeing the area," adding that as of Monday, no student in the area had showed up for the final examination.
The Regional Director of Education, Mrs Mary Owusu Achiaw, however, discounted this claim. She told this reporter, via text message, that the examination went on peacefully without any hitches.
Continuing, Nana Yaw Mensah wondered why the Ghana Armed Forces (GAF) cannot conduct thorough investigations, instead of resorting to raiding, beating and arresting innocent people, who had nothing to do with the murder of the fallen Captain.
Reached on phone to establish the arrest of the 11 folks, the Manso Nkwanta District Police Commander, ASP Badu Poku, confirmed to The Chronicle that 11 males had been handed over to the police by military officers.
ASP Badu told this paper that the military never assaulted any civilian, and that suspects who were brought to his outfit were in good condition of health.
The District Chief Executive for area, Mr William Bediako Asante, on his part, told The Chronicle, via telephone yesterday, that though he was not informed about the operation, he was later told that it was sanctioned by the Military High Command.
The military undertook the operation based on intelligence that some of the suspects were hiding in the village. Mr Bediako made it clear that he would not support any indigene of the area to harbour some of the suspects involved in the heinous crime.
From Richard Owusu-Akyaw, Kumasi