Weekly OPD Clinic At Press Club Rolls On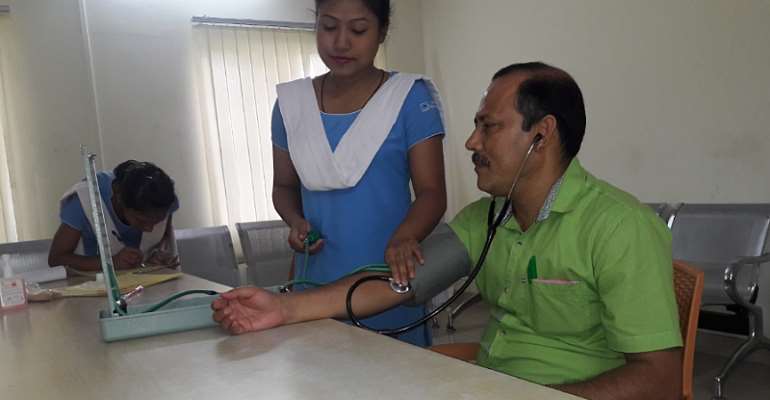 Nilakantha, a middle aged scribe of Assam, recently participated in the weekly evening OPD clinic at Guwahati Press Club out of curiosity.
He had a brief discussion with the attending doctor, who advised him to check his blood pressure. Initially Nilakantha asserted that he had no BP (meaning no irregularity in blood pressure). But when the nurse in the camp measured his blood pressure, the outcome emerged simply shocking.
He had hypertension (180 by 110), which compelled the doctor to strongly advise him to take medicine regularly.
Meet Jyotiprasad, a contributor of news & features to local newspapers in the city, who casually came to press club on a Saturday afternoon.
He was asked to consult with the attending doctor and also check his blood sugar. The result was not comfortable for Jyotiprasad, as he reported high sugar level in body fluid.
The doctor, who preferred not to advise him any medicine immediately, but asked the young reporter to have a balanced diet and also do regular physical exercises.
There are many such case studies, one can find out from records of the press club's unique healthcare initiative titled 'Evening with a Doctor', where many lives were virtually saved on timely intervention.
Conceived and organized by the far-eastern press club of India, the Saturday health camp now emerge as a regular healthy hangout for the press club members along with their dependants.
It was launched ten months back with initial supports from Assam's Dispur Hospitals, when Dr Jayanta Bardoloi helped in raising a doctor's chamber at the club premises.
The last evening clinic on 3 June was conducted by a consultant urologist from GNRC Hospitals Guwahati, where Dr Samarjyoti Bora offered healthcare consultations to over 40 participants.
The practicing doctor was assisted by the hospital's nurse Easter and public relation officer Mrinal Ali Hazarika in conducting the program.
The previous camp on 27 May was attended by Dr Ashwin Rajagopal, a consultant on surgical oncology at Manipal Hospitals Bangalore. The participants also got their blood pressure checked in both the camps.
Till date, practicing doctors from Apollo Chennai Hospital, Medanta-the Medicity Hospital, Down Town Hospitals, Narayana Super-Specialty Hospitals, Swagat Super-Surgical Institute, Shankardev Nethralaya Guwahati, Wintrobe Hospital, Barthakur Clinic, Nemcare Hospital, Rahman Hospitals, Sun Valley Hospital, Dispur Hospitals, Sight First eye-clinic, Government Ayurvedic College, MMC Panbazar, Institute of Dental Science & Research Center etc have attended the camps.