UN Begins Ocean Conference To Stop Sea Pollution
Diaspora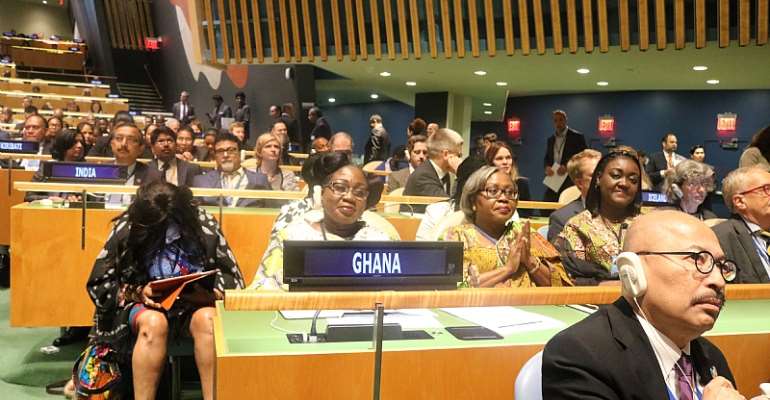 The first ever High-Level "Ocean Conference " to find ways to conserve and sustainably use the oceans, seas and marine resources for sustainable development began today (June 5, 2017) at the United Nations headquarters in New York.
Under the theme "Our oceans, our future: partnering for the implementation of Sustainable Development Goal 14", the four-day event has attracted many heads of state and other top government officials to discuss effective ways to reverse the present decline in the health of the oceans for people, planet and prosperity.
The conference has also brought together hundreds of relevant stake holders, intergovernmental organizations, academic institutions, the scientific community, private sector, civil society groups and youth to propel a game-change, by using the forum to galavanize action-oriented partnerships at all levels that will provide lasting solutions.
Opening the conference, UN Secretary General Antonio Guterres warned that "pollution, over fishing and the effects of climate change are severely damaging the health of our oceans".
According to the Secretary General one recent study showed that plastic could outweigh fish, if nothing happens in the seas by 2050 and therefore called for deepened knowledge base, with better data, information and analysis.
Rising sea levels, he noted threatens entire countries, pointing out that "Oceans are warming and becoming more acidic, causing coral bleaching and reducing biodiversity, Changing currents will have a serious impact on weather patterns, we must prepare for more frequent storms and droughts".
Fisheries in some places are collapasing, Mr. Guterres stated explaining that dead zones- underwater deserts where life cannot survive because of lack of oxygen are growing rapidly in extent and number. Many species could be extinct within decades" she said.
To this end, Mr. Guterres charged all member states to engage in the dialogue necessary to redefine a new model for the future, after assuring of building partnerships with governments and other participants on innovative financing to release more funds.
Earlier, Mr. Peter Thompson. President of the General Assembly, remarked that the time has come to correct the wrongful ways. "It is inexcusable that humanity tips the equivalent of large garbage truck of plasticcs". We have to act now on the health of the oceans and climate change.
The Secretary General remarked that " We have leased a plague of plastic upon the oceans that is defining nature in so many tragic ways.
"Illegal and destructive fishing practices, along with harmful fisheries subsidies, are driving our fish-stocks to tipping points of collapse.", he said.
In his view, the greenhouse gases of accumulated carbon-combustion, human activity are not only driving climate change , they are causing rising sea levels through ocean warming, while threatening life in the ocean through acidification and deoxygeneration.
The president of ECOSOC, Mr. Frederick Musiiwa Mkamure Shava called for the immediate stop of depositing plastic and other harzadous wastes in seas and oceans in view of their destructive nature..
At his turn, Mr. Wu Hongbo, Secretary for the Ocean Conference and Under Secretary General for Economic Affairs said the world was currently grappling with the negative effects of marine pollution.
He said the world cannot survive without the sea and oceans.
Fiji and Sweden are co-hosting the conference.