Qatar row threatens air disruptions in the Gulf
News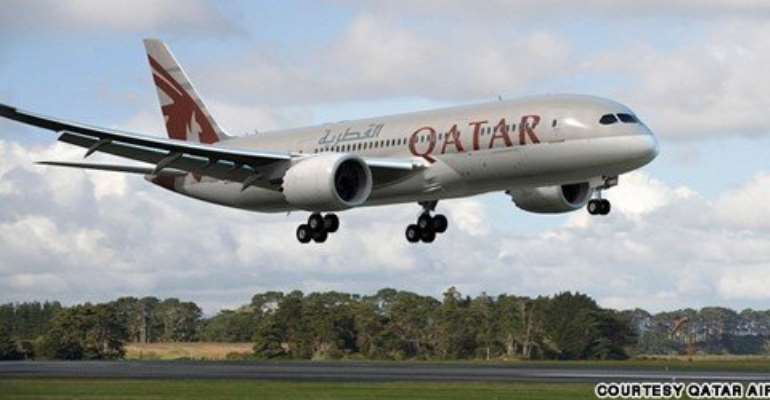 Qatari planes are to be banned from Egyptian and Saudi air space, as a growing diplomatic row in the Gulf threatens large-scale air disruption.
Several countries have cut ties with the tiny Gulf state over accusations of supporting extremism in the region.
Air, land and sea links have been halted to the country from Saudi Arabia, the UAE, Egypt and Bahrain.
Qatar denies backing militants, including so-called Islamic State (IS), and said the move was "unjustified".
The unprecedented move is seen as a major split between powerful Gulf countries, who are also close US allies. It comes amid heightened tensions between Gulf countries and their near-neighbour, Iran.
Who has done what?
Bahrain, Saudi Arabia and the UAE co-ordinated together to set the diplomatic withdrawal into motion, closing all transport ties to Qatar, a tiny gas-rich peninsula.
They have given all Qatari visitors and residents two weeks to leave their territory. The three countries have also banned their citizens from travelling to Qatar.
The UAE and Egypt have given Qatari diplomats 48 hours to leave both countries.
Saudi Arabia took it one step further by closing down a local office of Qatar's influential Al Jazeera TV channel.
However, the country says it will still allow Qataris to take part in the annual Hajj pilgrimage to Mecca.
Egypt, Yemen, Libya's eastern-based government and the Maldives later followed suit in severing diplomatic ties.
What about air disruption?
Saudi Arabia's civil aviation authorities have banned Qatari planes from landing or stopping at its airports, as well as crossing Saudi airspace.
Egypt has also closed off its airspace to flights originating from Qatar, and said all flights between the two countries would be halted from 04:00 GMT on Tuesday and "continue until further notice".
Airlines from many of the affected countries, including Bahrain's Gulf Air, Etihad Airways and Emirates, say they plan to cancel flights to and from the Qatari capital Doha starting from Tuesday morning.
Budget carriers, such as Fly Dubai and Air Arabia, have also cancelled routes to Doha.
The national airline, Qatar Airways, meanwhile has suspended its flights to Saudi Arabia.
The BBC's Simon Atkinson says the suspension of flights may cause a major problem for the airline, forcing it to alter flight paths and inevitably add time to some flights.
There are reports of residents stockpiling food and water, as Qatar is heavily dependent on Saudi Arabia for its food imports.
About 40% of Qatar's food is believed to come by lorry from its Gulf neighbour.
An official with Iran's Union of Exporters of Agricultural Products was quoted by Fars news agency as saying Tehran could export food to Qatar by sea within 12 hours.
Why has this happened?
While the severing of ties was sudden, it has not come out of the blue, as tensions have been building for years, and particularly in recent weeks.
Two weeks ago, Egypt, Saudi Arabia, Bahrain and the UAE blocked Qatari news sites, including Al Jazeera. Comments purportedly by Qatari Emir Sheikh Tamim bin Hamad al-Thani criticising Saudi Arabia had appeared on Qatari state media.