17.69% Plastic Waste Dumped In Sea - EPA
News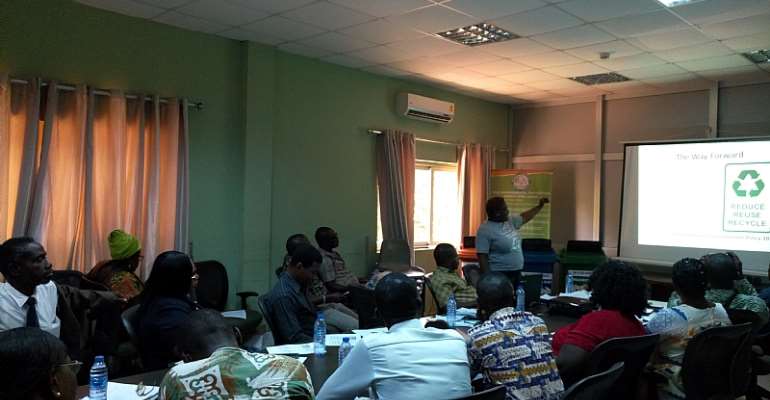 The Environmental Protection Agency (EPA) has revealed that 17.69 percent of plastic waste materials generated annually in the country, finds its way into the ocean.
Speaking at a sensitization workshop on waste management and segregation for basic schools in Accra, William Hayfron-Acquah, Chief Programmes Officer, (Built Environment) at EPA, feared the menace poses a serious threat to Ghana's fish stock.
He added that 0.45 percent of electronic waste materials produced every year, may also contaminate Ghana's water bodies including the sea.
In 2016, the Ministry of Fisheries and Aquaculture Development indicated $135 million worth of fish was imported in 2015 due to the reduction in the country's fish stock.
According to the Ministry, only 20,000 metric tonnes of fish is produced annually against a consumption level of 950,000 metric tonnes every year.
Hayfron-Acquah, however blamed the chronic pollution of the ocean as one major challenge affecting Ghana's aquatic life.
"If we have 17.69 percent of plastic, 0.45 percent of e-waste, and glass materials making up 4.92 percent, then we are probably talking of 23.06 percent going into our oceans. As we know, organic waste which makes up 58.40 percent of Ghana's waste product each year, may hardly finds its way into the sea", he clarified.
Hayfron-Acquah also stated that, "we don't have the powers to do that; we can only collaborate with city authorities like the A.M.A to ensure that. Last year, the authority took court action against the Accra Metropolitan Assembly which led to them procuring biodegradable digesters for the treatment of septic waste at Lavender hills, that is the extent we can go."