Major Mahama has become a 'big national hero' – Akufo-Addo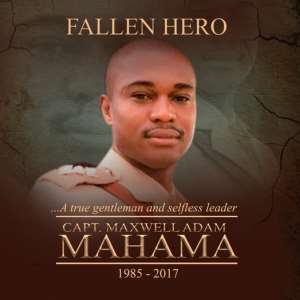 President Nana Addo Dankwa Akufo-Addo says slain Captain Maxwell Adam Mahama who has now been promoted to the rank of a Major died as a hero despite his grisly murder.
Addressing the family during a visit to commiserate with them Monday, the President said the outpouring of condemnation and condolences following the demise of the soldier are reminders that he has become a "big national hero."
"You can get some solace that everybody is upset with the manner he died," he said.
President Akufo-Addo's visit comes exactly a week since Major Adam Mahama was murdered.
Acting on a recommendation by the Chief of Defense Staff, Major General Obed Akwa, the President promoted the slain soldier from Captain to Major posthumously.
"I have the authority to do that [promote him] and I have done that [from now forward he would be] Major," President Akufo-Addo said.
The soldier was killed by some residents at Denkyira-Obuasi in the Central Region last week Monday on suspicion that he was a thief.
He was clobbered, stoned and burnt after he had fallen unconscious out of the beating. He died at 10:00am, the police have said.
The police have arraigned some 34 people before an Accra Circuit Court in connection with the tragedy.
During a visit by some Members of Parliament (MPs) last week, the family requested a monument to be erected in memory of their fallen son.
Showing up at the residence of the murdered soldier after his visits to some West African countries, President Akufo-Addo said Cabinet has agreed to erect a monument in his "honour so that his memory will stay."
The President also announced government's decision to set up a memorial trust fund with the seed money of GHS500,000. He also pledged a personal contribution of GHS50,000 towards the Trust.
The Trust, President Akufo-Addo noted would be chaired by Defense Minister, Dominic Nitiwul with membership from the two leading political parties – NDC and NPP.
Former Government Statistician, Grace Bediako has also agreed to serve as Trustee, the President revealed.
Although a lot can be done for the memory of the slain soldier, President Akufo-Addo said they can never fill the gap that Major Mahama's demise has left behind.
Story by Ghana | Myjoyonline.com | Austin Brakopowers | [email protected]