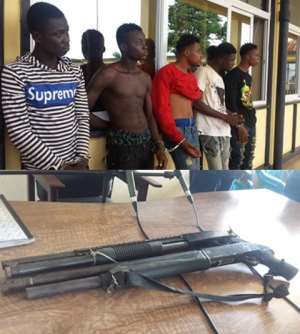 By Gifty Amofa, GNA,
Kumasi, June 05, GNA - Five suspected robbers, who raided a mining site at Moseaso in the Amansie West District and made away with large quantity of gold concentrate have been arrested by the police.
Their names were given as Richardson Gyimah, Abdul Rashid, Zakaria Salifu, Cletus Selasi and Samuel Owusu.
Deputy Commissioner of Police (DCOP) Ken Yeboah, who is the Ashanti Regional Commander, told journalists that the robbery happened last Friday, June 02.
The robbers who wearing hoods and carrying two pump action guns, struck at about 0730 hours.
They attacked the workers at the mining site, seized the gold concentrate which was being carted in a tricycle and fled into the Essuowin-Dotwi Forest.
He said the suspects were grabbed through the vigilance, support and cooperation of the people in the area.
The pump action guns and a spent cartridge were retrieved from them, DCOP Yeboah said.
He said Gyimah, who works with the small scale mine is suspected to have masterminded the robbery.
Mr Yeboah said the suspects would be arraigned as soon as Police conclude their investigation.
GNA