5 June 2017
|
Editorial
Modern Day Slavery In The Gulf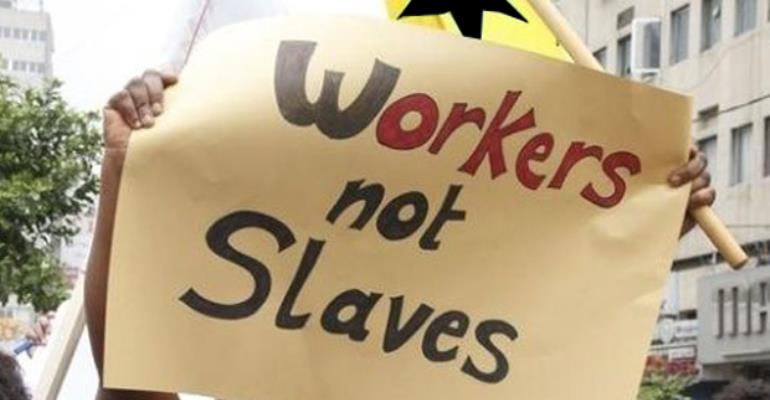 The ordeals Ghanaian workers especially women endure when they are employed to work in the Gulf States of the Middle East is somewhat household knowledge.
It would appear that it is the employment agencies which benefit from the arrangements and not the workers who end up abused by wicked rich Arabs.
The Arabs who engage these Ghanaian workers unfortunately see them as beasts of burden and exploit them to the maximum. Some have been maimed as a result of physical abuse suffered at the hands of wicked Arabs.
With their passports seized and kept by their bosses, it is unthinkable for them to even consider fleeing from the bondage in which they live as soon as they set foot in these countries.
The Foreign Affairs Ministry has had cause to lodge complaints to some of these countries time without number about the crude treatment they mete out to our citizens.
Under the NDC regime, we can recall how once upon a time our envoy in Saudi Arabia with responsibility for some Gulf countries had to travel out of his base to intervene in one terrible issue involving a Ghanaian lady who suffered unimaginable abuse at the hands of her owner.
The employment agencies in spite of these obvious challenges and even danger our compatriots are most likely to endure when they travel to the Gulf countries, continue to put out juicy advertisements about an awaiting paradise.
In the most drastic measure yet from the Foreign Affairs Ministry suspending the engagement of Ghanaian workers for work in those countries we can only say bravo to those who thought this out.
We cannot fold our arms apathetically as rich Arabs use our girls or women as sex slaves. Allowing them to continue to satisfy their libidos on unsuspecting girls from Ghana should not be entertained under any circumstances. After all we are not starving in Ghana. Haba!
The story of a Ghanaian driver who was killed in Saudi Arabia – a story which we carried in the DAILY GUIDE a few years ago is still fresh in our memories.
To date we doubt if the bereaved families of the heavy duty driver who lost his life under strange circumstances have been pacified.
Much as we are guided by the tenets of diplomacy and detest xenophobic tendencies, in our remarks we deem it important to state that the average Arab in the countries under review who engage black workers from our part of the world do not have any iota of deference for them.
Examples abound about how many Ghanaian women have had to succumb to the nightly sexual overtures of their 'masters' whose children and other members of their families also come to forcefully have their turns.
The economic challenges are not as bad as to warrant our migration to these hell on earth regardless of the negative fallouts of such ventures. We must, as human beings, maintain our dignity.
Even locally, we have reliably heard about how badly some of our compatriots have been treated working for persons of Gulf origins.
It is the responsibility of the state to protect her citizens and this has been exhibited. It is for this reason that we side with the decision and wonder why a total ban would not be more appropriate than a suspension.
The disregard for blacks is in the genes of the persons under review and so they would not stop exhibiting the tendencies which have prompted this commentary.