3 June 2017
|
Editorial
Two Years After The Tragedy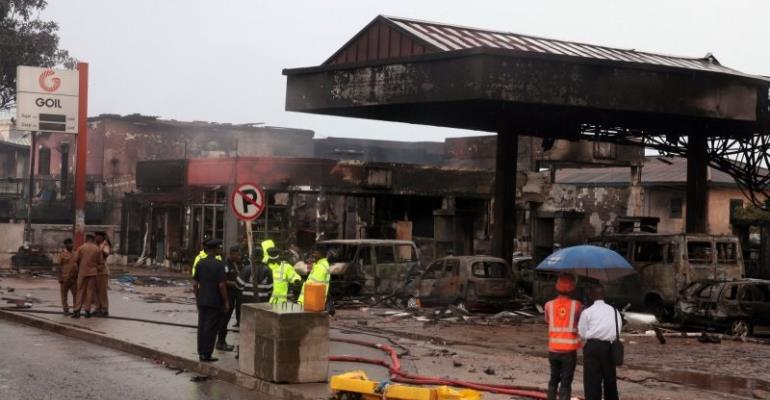 Two years ago lives were lost in an unprecedented disaster which struck the nation's capital. For a country which has never witnessed a tragedy of that magnitude, that was stunning.
For the families of the deceased, the breadwinning roles of their relatives is still being missed. It can only be imagined the number of persons who have had to vary their lifestyles as a result of losing the sources of their support especially in school.
To date, the report about what really caused the disaster has not been explained to the populace let alone measures taken to obviate future recurrence.
The lives of survivors have been affected negatively; the deforming scars too visible to be ignored.
The survivors were heard yesterday narrating their plights – the conclusion being that many of them have not been pacified with any monetary support as they were promised.
Survivors responded to communications to turn up at the offices of the AMA location they visited unproductively until some of them, a large chunk, eventually gave up. The ritual of going and taking fresh dates which never yielded anything productive compelled the victims to eventually give up any hope of receiving assistance.
They are embittered because of a seeming abandonment by authorities who should have taken care of them but have not.
The despondency which arises from such a feeling should be avoided in any civilized society lest the people lose hope in the ability of the state to take care of them in case of a natural calamity.
It is important to find out whether there is a report to turn to regarding what happened and whose irresponsibility caused what happened.
As we remember the dead, let us also insist on finding out what happened. A committee probed the occurrence but the contents of the report especially recommendations therein are outside the reach of Ghanaians.
The ability to manage successfully a future recurrence is impaired when the outcome of a probe is confined to the dusty shelves of a state department.
The question as to whether we have learnt any lesson should, under the circumstances, be an obvious negative. What can we learn from a disaster whose report and recommendations remain under the carpet?
We condemn this lax attitude to very serious issues such as happened two  years ago. The drainage system at the Circle Interchange from preliminary information following the disaster is not conducive for the free flow of rainwater. If that is true, should there be a major deluge the outcome could be another headline story. Nothing has been done to reverse the state of the location.
A few structures have been knocked off waterways in the city yet we are not off danger. The ritual of visiting flood victims should be ended with a better management of our drainage systems.
May the souls of those who lost their lives in the Circle disaster rest in peace.