Lady Grabbed For Ordering Murder Of Business Partner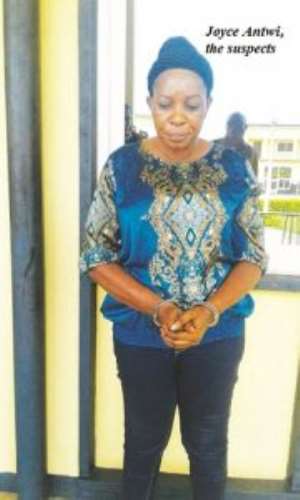 The Ashanti Regional Police Command has arrested a 41-year-old woman for attempting to assassinate her business partner.
DCOP Ken Yeboah, Ashanti Regional Police Commander, at a press briefing in Kumasi yesterday, disclosed that the suspect, Joyce Antwi, a resident of Buokrom Estate, attempted to assassinate her business partner who deals in plywood at Akwatialine, a suburb of Kumasi.
He said, in October 2015, suspect Joyce Antwi collected an amount of GH¢99, 000 from the victim, in order to expand her business, and promised to repay the money.
He stated that in April 2017, the victim approached the suspect to remind her to refund the money in June 2017, to enable her invest in her own business, since life was becoming difficult for her, upon which the suspect agreed to pay back the money in due course.
The Police Chief indicated that on Tuesday, May 23, 2017, suspect Joyce Antwi approached the complainant and contracted him to assassinate the victim for a fee of GH¢5,000.
The complainant agreed to the offer, and was given GH¢2,000 as part payment from the suspect, and promised that the balance will be paid when the job is executed.
Joyce Antwi then asked the complainant to execute the job in the afternoon, since the victim's husband and children will be out of the house.
The Police Commander said on Friday May 26, 2017, suspect Joyce Antwi picked the complainant to the residence of the victim at Buokrom Estate to show him the house, but the complainant immediately alerted the police about his engagement with the suspect, as well as her intention to assassinate the victim.
Armed with the information, the police, on Saturday May 27, 2017, went to the victim's residence and asked her to call the suspect to come to her, to which she obliged. The suspect was arrested by the police when she showed up two hours later.
The Commander disclosed that during interrogation, suspect Joyce Antwi confessed in her caution statement of having contracted the complainant to assassinate the victim for a fee of GH¢5,000, of which she had already paid the complainant GH¢2,500 as part payment.
As a result, the suspect is in police custody to assist in investigations, pending prosecution
From Ernest Best Anane, Kumasi