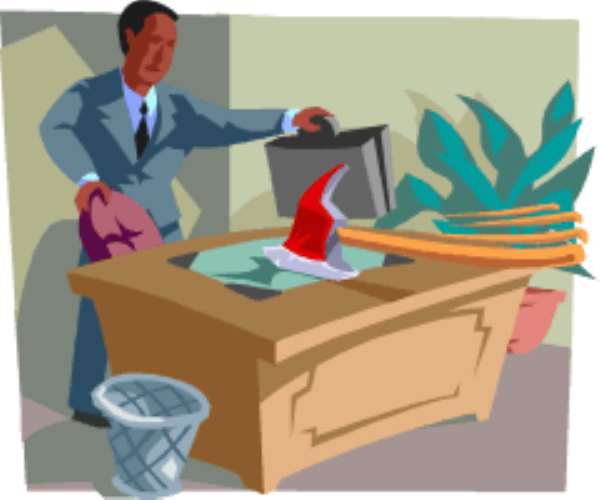 Mamfe-Akuapem (E/R), May 15, GNA - The Akropong Constituency Chairman of the New Patriotic Party (NPP), Mr Achaempong Adum, was on Saturday relieved of his post at an emergency constituency delegates' conference at Mamfe-Akuapem.
Voting on the motion to sack the Chairman was 45 to 1. Mr Adum who was suspended on April 30, by both the Executives and some Polling Station Chairmen for alleged "financial embezzlement and misconduct", was dismissed under the Article 10 of the NPP constitution.
In a petition to the National Chairman and some Executives dated April 30, Mr Adum was alleged to have misappropriated 24.25 million cedis meant for Polling Station Executive's house-to-house campaign during the 2004 electioneering campaign.
It further alleged that "the National Headquarters released the same amount (24.25 million cedis) to 485 Party Agents/Volunteers in 97 polling stations within the constituency, but only 14.550 million cedis was released to 291 agents instead of the 485 Agents/Volunteers."
Reacting earlier to the threat by the Executives to convene the emergency conference, a memo from the Constituency Secretariat to Polling Station Chairmen described the conference as "the work of some disgruntled elements within the executive body of the Akropong constituency of the party who have arrogated to themselves executive powers they do not wield to course confusion and chaos within the rank and file of the peaceful and constitutionally elected body of the party."
It said "The said unconstitutional letter written on an unofficial letter head of the constituency and without the knowledge of the constitutional Chairman and majority of the executive members should be treated as criminal and an act of causing confusion and division among the party."
Officials of the Electoral Commission supervised voting on the motion for the removal of Mr Adum.