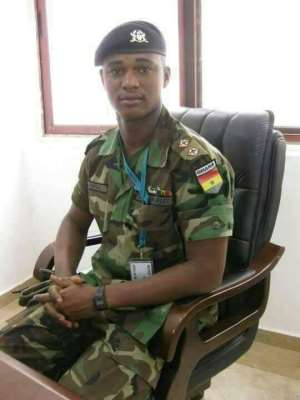 We the members of Modern Women of Wisdom International (MWOW) are still in a state of shock and devastation when we read another story of a clear case of Mob attack of disturbing proportions meted out to Captain Mahama of the Ghana Armed Forces by some people in Denkyira-Obuasi.
A vibrant Soldier, a father and a breadwinner with a promising future was lynched because he was *PERCEIVED* to be an armed robber by some people who have no knowledge or whatsoever in Forensic Criminology.
His aggressors did not only beat him to death but burnt him as well. We were taken aback when we saw a WOMAN lighting a match on the helpless body of the late Captain as residents of the neighbourhood just looked on without any form of intervention with some taking pictures.
As an Association of Women who have promised to extend charitable hands to the less privileged in the society, We are totally embarrassed by the villainous actions of the "woman in yellow" who is seen in a footage lighting a match on the lifeless body of our former soldier.
Nobody found it necessary to call the police because it is not a norm to do so in Almighty Denkyira-Obuasi.
Indeed, anybody who dared to call the police could have tasted the wrath of the agitated people as death was the best option to them at that critical moment.
This barbaric act should not happen in any civilised society of which ours is part.
We call on the Ghana Police as a matter of urgency to scoop this woman in yellow out and prosecute her to serve as a deterrent to some evil women who have vowed to be rebel leaders instead of becoming peacemakers in the society.
The Police must leave no stone unturned by bringing all the perpetrators of this heinous act to book.
It is sad to know a section of Ghanaians still do not appreciate the role of the police. They do not even know when to assist the Police with important information they would need in their investigations.
This is the more reason some people do not even know that when there is a mob attack, they must intervene or even call on the Police.
We call on the NCCE, Civil Society Groups, the Gender Ministry, the Ministry of Information, the Ghana Police Service etc to educate Ghanaians on the repercussions of mob attacks.
If instances of instant justice are not stopped, we shall continue to have innocent persons lynched callously.
We urge Ghanaians to have confidence in the Police Service and trust them to enforce the law the shortcomings in the integrity of the institution from previous experiences, notwithstanding.
LONG LIVE GHANA, LONG LIVE MWOW. SPOKESPERSONS Ama Adoma- 0542870342 Nana Akosua Takyiaw- 0240988300 Nana Ama Asantewaa -0244933893