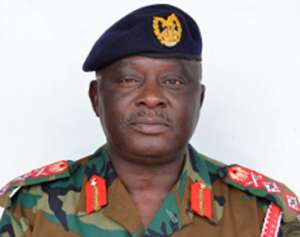 Major General William Azu Ayamdo
The Chief of Army Staff, Major General William Azu Ayamdo, has said the military will not retaliate or carry out brutality on residents of Denkyira-Obuasi in the Central Region after some community folks lynched and burnt a military officer.
According to him, the Army will collaborate with the Police and other security agencies to thoroughly investigate the matter, and bring the culprits to book in accordance with law.
The deceased, Captain Maxwell Mahama is said to have been on his daily jogging routine on Monday when some angry youth of the town attacked him, allegedly on suspicion of being an armed robber.
Major Azu Ayamdo made the statement when he visited Denkyira-Obuasi with some top military officers to help in investigating the gruesome crime.
"I've lost one of my fine officers who was detailed to come here on official duty protecting lives and properties only to be lynched by the same community he is supposed to be protecting.
So I'm very sad that this should happen to an officer of the Ghana Army and the Ghana Armed Forces at large," he said. He told journalists that "the community where the incident happened has completely been vacated, except the few who were arrested."
Major Azu Ayamdo said a few of those arrested have been identified as being directly involved in the dastardly act.
He urged the police to work speedily on prosecuting the suspects.
"Out of those we have been able to identify, two or three who may have been directly involved in the incident, we have handed them over to the police.
My hope is that the police will work on this one very speedily so that we can get to the bottom of this matter." "A lot of people have the thought that we are coming to do some reprisal attacks…. We are not going to carry out reprisal attacks.
People should feel free to go about their normal duties if they are not involved in any of these acts.
But once we require getting to the bottom of this, we require them to give us information that will lead to the quick resolution of the matter.
They should be rest assured that we are not going to carry out reprisal attack," he added.
-Citifmonline