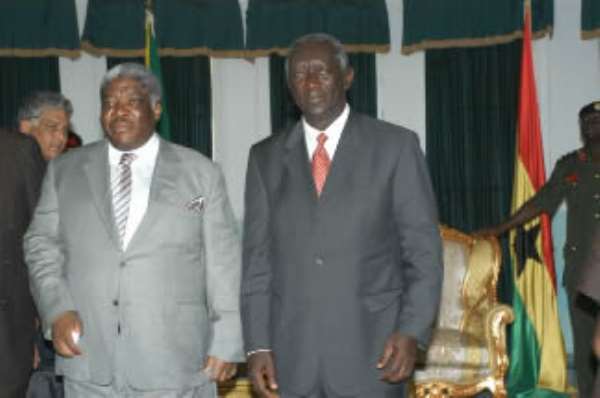 Accra, May 15, GNA - Ghana and Zambia on Sunday agreed on the need to establish a Permanent Joint Commission for Cooperation to help expand further the cooperation between them.
The Commission would focus on mining, communication, human resources development, energy, trade and investment. The decision was contained in a Communiqu=E9 issued at the end of the five-day State visit to Ghana by the Zambian President Levy Patrick Mwanawasa.
Nana Addo Dankwa Akufo-Addo, the Minister of Foreign Affairs signed for Ghana, while Reverend Lieutenant-General Ronnie S. Shikapwasha, Zambian Minister of Foreign Affairs, signed for his country.
On Africa, the Communiqu=E9 appealed to all African countries to ensure the effective coordination of efforts in the implementation of the priority programmes of the New Partnership for Africa's Development (NEPAD).
It also recognised the important role that the African Peer Review Mechanism (APRM) under the NEPAD was playing in the consolidation of democracy and good governance in Africa.
The Communiqu=E9 called on African countries to continue with their efforts at democratisation and the promotion of the rule of law and respect for human rights that would contribute significantly to the socio-economic and cultural development of the Continent.
It welcomed efforts by African countries to eliminate conflicts on the continent and expressed the hope that current peace efforts to resolve the various conflicts in Africa would be fruitful and thus help to establish more auspicious conditions for the development of the Continent.
The Communiqu=E9 reviewed the developments in West Africa and appealed to all stakeholders in the Togolese crisis to endeavour to ensure peace, stability and democratic governance.
It welcomed the recent positive developments in the Ivorian crisis based on the Pretoria Agreement for peaceful elections in October. The Communiqu=E9 called on African leaders to stick to the Continent's common position that sought to give Africa more effective representation within the Councils of the United Nations (UN).
On trade, it stressed the need for a thorough review of the world trading system to ensure a fair and just international trade regime for the full development of the potentials of all peoples and nations especially those of Africa.
The communiqu=E9 called for more South-South cooperation especially among African countries to enable them benefit from globalisation. It therefore, stressed the need for the expansion of trade and investment between private sector operators and the relevant public institutions of Ghana and Zambia. President Mwanawasa accompanied by his wife Maureen and daughter Ntembe, left Accra on Sunday morning for Tripoli, Libya for another State visit.