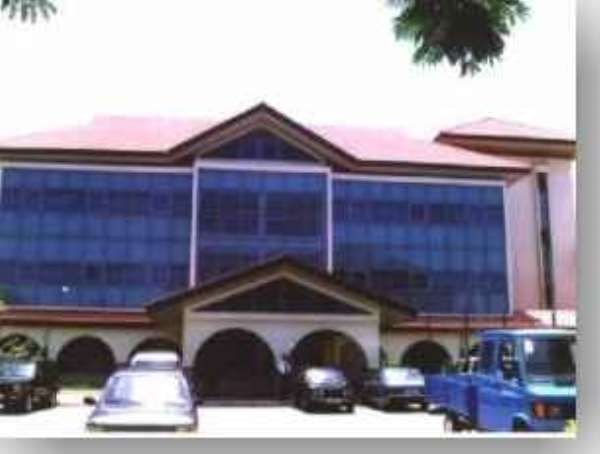 ECOBANK Ghana Limited at the weekend, annexed the prestigious 2004 Bank of the Year award at the 4th Ghana Banking Awards (Corporate Banking) dinner dance held in Accra.
By this achievement, Ecobank has become the first bank to win the overall best prize for three times, having won it in 2001, when the first awards ceremony was held, and retaining the title the year after.
Corporate Initiative Ghana (CIG) organised the event in association with the Ghana National Chamber of Commerce and Industry (GNCCI), the Association of Ghana Industries (AGI) and was co-sponsored by KPMG, who doubled as the event statisticians.
The spontaneous applause that greeted the announcement of the overall best award winner bore testimony to the performance of Ecobank which was mentioned in almost all the award categories either as the first or second runner up.
In the end, the bank also took home the best bank award in IT Infrastructure.
Merchant Bank Ghana Limited, which could not retain the enviable title it won in 2003, however, posted an impressive performance when it won three awards as the best in Customer Care, best in Long Term Financing and best in Short Term Loan Financing.
Unibank, one of the newest banks in the country, which has gained a lot of grounds in the banking sector, also improved their performance to win three awards as against the two it won last year.
The bank took the prize for the Best Growing Bank, best in Competitive Pricing and best in Advisory Services.
The most Socially Responsible Bank award went to National Investment Bank (NIB) while Stanbic Bank took the prize for best bank in Trade Finance with the award for Product Innovation going to SG-SSB.
Unlike many other national awards where the winners are announced or published before the day, the winners of the awards were mentioned during the ceremony.
Mr Afotey Odarteifio, the Executive Secretary of CIG, congratulated the banks for their achievements and requested all the banks to patronise the report and take into consideration the recommendations made by the event statisticians to improve on their performance.
He welcomed Standard Trust Bank, the latest bank to be registered in the country, into the competition.
Mr Samuel Ashitey Adjei, the Deputy Managing Director of Ecobank said "we won because of the hard work of the staff and we will all have to share in the joy."
Mr Adjei described the awards as the best way of judging the banks and congratulated the organisers for their resolve and expressed the hope that the event had come to stay.