30 May 2017
|
Editorial
Let's Hold The President Accountable To His Words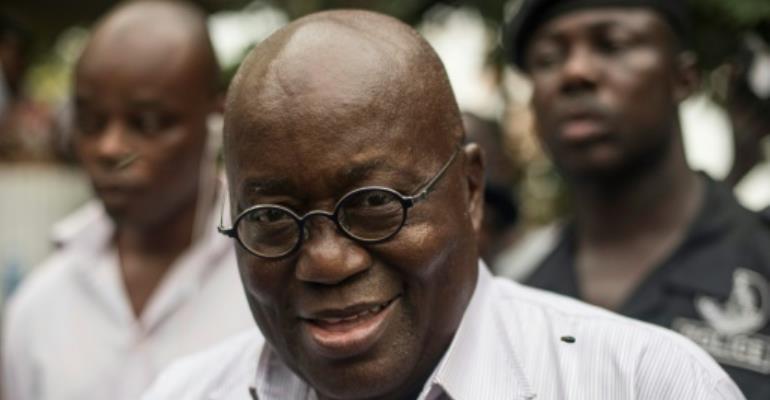 President Nana Addo Dankwa Akufo-Addo, on Wednesday, May 24 2017, told a meeting of Ghanaian residents in Sierra Leone that, as part of his one-day working visit to that country, he will not shield any public official found to be engaged in acts of corruption or malfeasance.
President Akufo-Addo pointed out that he will ensure that the laws of the land are applied fully, without fear or favour.
"When people get caught up in the net, I am imploring people not to come to me and say that, 'Oh! Nana, this man is my relative, so spare him.' That is the problem in Ghana. You find people going to speak to your wife with the hope of trying to influence you.
"We are going to create the Office of Special Prosecutor, who will not be a creature of the government, but will be an independent person who will have the power to decide who to prosecute. So it will not be Akufo-Addo, but it is the law that is working."
It is the view of The Chronicle that the President has hit the nail right on the head by re-echoing the sentiments of many Ghanaians, who are keen on seeing that people who are found to have embezzled state funds are allowed to rot in jail.
It is the wish of hundreds of thousands of Ghanaians, if not millions, to see the President taking decisive action against all those who have, in one way or the other, embezzled state funds for their personnel interest.
President after president in this Fourth Republic has paid lip service to the good people of this country, promising that they were going to deal with the canker, but indications are that nothing concrete has been done.
One cannot deny the fact that, in Ghana today, everybody is calling on the government to do whatever it takes to deal with people who have been found culpable of embezzling state funds.
The Chronicle thinks that the time has come for Ghana, as a nation, to develop great interest in state funds that find their way into private pockets, retrieve the monies, and prosecute those found to be guilty, to serve as a deterrent to others.
Last Friday, a huge crowd of people joined Captain Smart, host of Adom FM's flagship programme, to hit the streets in protest to demand that people who have squandered our monies should return them.
The paper is appealing to President Akufo-Addo to walk the talk, by speeding up the process of establishing the Office of Special Prosecutor, to kick-start the procedure of prosecuting all those perceived to be involved, one way or the other, in corruption.
Against this backdrop, The Chronicle would like to remind the President that many Ghanaians joined the long queue of voters in the 2016 general elections to cast their votes for him, simply because of one thing, which is to see the prosecution of state looters.
This was because it was the perception of the people that there were too many corruption allegations in the dethroned John Dramani Mahama-led National Democratic Congress (NDC) administration.
It stands to reason, therefore, that if the President fails to prosecute all those found to have embezzled state funds, then he would have disappointed a greater number of Ghanaians who voted for him in the 2016 elections.
The paper commends the President for mincing no words by coming out to state that he is not going to listen to anybody, stressing that his major concern at the moment is Ghana, and not one or two individuals.
The President must demonstrate the political will to prosecute corrupt officials, including those in his administration, by bringing them to justice, to prove to Ghanaians that he is a man of his words, so as to continue to enjoy the respect of all.
Per his own words, Nana Akufo-Addo has given indication that he will not spare any corrupt official who is caught to have engaged in acts of corruption or malfeasance.
Ghanaians are watching, and so is The Chronicle. The President is advised to keep his promise not to spare any corrupt official.