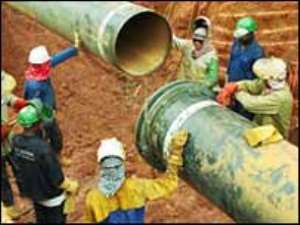 Savelugu (N/R), May 13, GNA - The Buipe-Bolgatanga Gas Pipeline currently under construction to transport gas from Buipe to Bolgatanga would be ready for use before the end of November.
Mr Jang Hwan Oh, Construction Manager of SK Engineering and Construction, a South Korean construction firm on the project, gave the assurance on Friday, when Alhaji Abubakar Saddique Boniface, Northern Regional Minister inspected progress of work at Savelugu, one of the construction sites.
Alhaji Iddrisu Adam, Tamale Metropolitan Chief Executive and Alhaji Abubakari Alhassan Atori, Savelugu/Nanton District Chief Executive accompanied the Minister on the visit.
The Minister's visit was also to enable him to learn at first hand the progress of the project and the challenges facing the contractor and the workers on site.
Mr Oh said the work was 90 per cent complete, adding that, what was left would be completed in September.
He said about 500 Ghanaian employees mainly from the Northern Region were working on the project, which was being fast-tracked to ensure its early completion.
Mr Oh, however, expressed concern about demands for compensation from the company's management by some communities along the line even though the government had already paid compensation to some of them. He said 30 houses directly situated on the line had already received compensation, while plans were under way to compensate other landowners and farmers, whose farms had been affected by the project.
Mr Oh said slop oil tank had been installed at the Savelugu station for use during maintenance at the station to ensure uninterrupted supply of fuel.
Alhaji Boniface was impressed with the progress of work and urged other contractors to endeavour to execute their projects within schedule to save cost.
He noted that when the project was completed it would reduce the cost and the risks involved in transporting petroleum products by tankers to Bolgatanga.
The project would also boost business between Ghana and her northern neighbours, since it would shorten their journey to the southern sector for petroleum products.
The Minister was not happy with the low profile nets used in fencing the sub-station at Savelugu, saying that it posed a serious threat to security at the station.
President John Agyekum Kufuor in November 2004 cut the sod at Buipe for the construction of the 42 million-dollar project from Buipe to Bolgatanga.
The Korean government is providing 38.9 million dollars, while the Ghana government is bearing the rest of the cost.