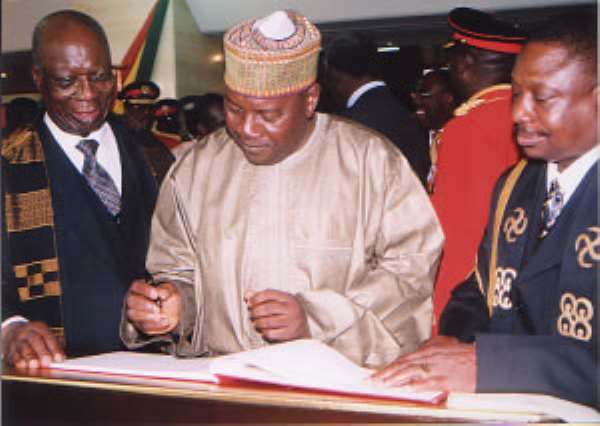 An aide to the vice president says Alhaji Aliu Mahama has not declared any intention to seek the ruling party's presidential slot for 2008.
Mohammed Awal has therefore denied a publication in today's edition of the Ghanaian Chronicle suggesting that the vice president had given up on his initial intention to succeed president Kufuor.
He accused the Chronicle of deliberately publishing falsehood against the vice president explaining that he believed one of the NPP's bigwigs from the north backs the paper.
"I believe sincerely that somebody from Northern Ghana is behind Chronicle. Somebody who has eyes for the presidency. I suspect Hawa Yakubu. Madam Hawa Yakubu is behind some of these stories and if she wants a challenge, I will provide her with pieces of evidence that she is behind some of these stories," he says.
Madam Hawa Yakubu denies any involvement. Whiles conceding she enjoys support from some newspapers, Madam Yakubu told Joy News such comments strain the already tepid relations with the vice president.
" First and foremost it is not true and I think it is quite a serious allegation that I must take legal action to redeem my image," she says.
Madam Yakubu says people like Alhaji Awal are those who have consistently tried to create misunderstanding between the vice president, his people, supporters, friends and allies.
" There is no basis for this, if I want to say anything about the vice president, I will say it myself, there is no reason why I should smuggle it to a newspaper," she says.
Madam Hawa Yakubu recently declared her intention to contest the presidential ticket of the NPP in 2008.
Others tipped to be eyeing the presidential slot of the party include Education and Sport Minister Yaw Osafo Marfo, Integration Minister Dr. Konadu Apraku and Foreign Minister Nana Akuffo Addo. But none of them has officially declared their intention to contest.