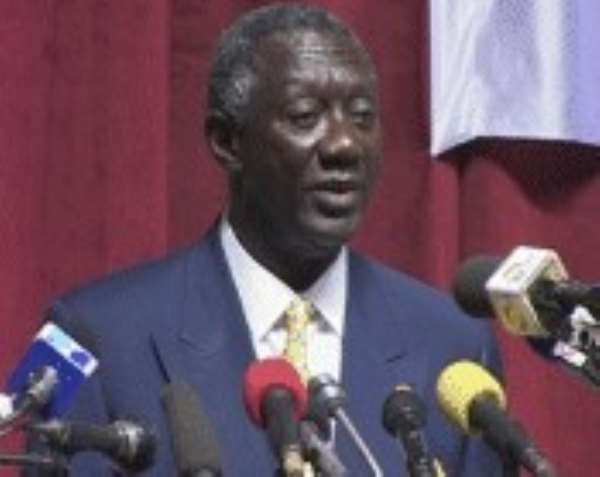 Accra, May 13, GNA - President John Agyekum Kufuor on Thursday said the Government enhanced revenue mobilisation from 4.2 trillion cedis in 2001 to about 17 trillion cedis last year.
He said the increase in revenue mobilisation was the result of the establishment of the Internal Revenue Agencies Board in August 2001 to organise and co-ordinate state revenue agencies. President Kufuor disclosed this when proposing the toast at a State banquet in honour of the visiting Zambian President Levy Patrick Mwanawasa in Accra.
President Mwanawasa is on a five-day State visit to Ghana. President Kufuor said the Government in its commitment to fight corruption had ensured the passage of appropriate laws to support strict commitment including the Public Procurement Act, the Internal Audit Agency Act and the Financial Administration Act.
He said other statutory institutions were in place to complement the law courts in their constitutional role of enforcing justice and enhancing accountability and transparency in public administration. President Mwanawasa replying to the toast commended the Government for its economic achievements through prudent economic reforms that had assisted in empowering the people.
He also commended Ghana's role in the Economic Community of West African States (ECOWAS) and especially the sterling leadership qualities of President Kufuor as Chairman of the Sub-Regional body in its peacekeeping and peacemaking efforts.
"Like the true pioneer of Africa's independence, Ghana's clarion call for peace and justice has also been vibrant at various regional and international organisations. It is a fitting tribute that today a distinguished Ghanaian, Busumuru Kofi Annan is at the helm of the United Nations (UN)", he added.