19 May 2017
|
Opinion/Feature
Opposition's Racism In South Africa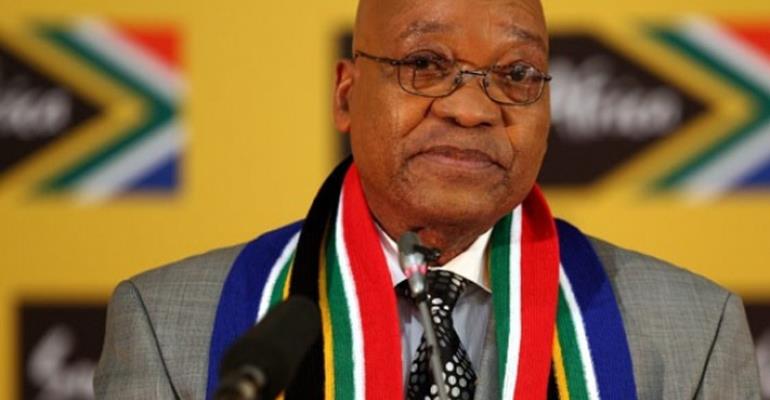 In addition to the decline in the South African economy largely due to the overall world crisis which has driven down commodity prices and systematically disinvested from the emerging states, there has been a fracturing of the national democratic movement and the workers organizations over contentious debates surrounding a way forward and policy of ruling party African National Congress (ANC).
Since 1994 there have been substantial reforms initiated under the ANC government. There has been the construction of housing for the poor and working class, the expansion of healthcare, the breaking down of racial barriers in public facilities, along with access to household utilities and clean drinking water.
However, the fundamental relations and ownership of production remains under the control of the capitalist class. As a manifestation of modern-day capitalism, high unemployment, rising costs of living including education fees as well as problems associated with service delivery, have continued.
"In all other countries, the majority controls everything from politics, economy and defense . . . It's only in this country (South Africa) where we don't have economic freedom. It's controlled by the minority and those who oppressed us," Zuma stressed on November 2016.
The main opposition force Democratic Alliance (DA) alleged that the government of President Zuma has been involved in corruption. Zuma has denied the charges and attempts to pass motions of no-confidence in parliament failed on numerous occasions. The current ANC leadership seems solidly committed to keeping Zuma in office until his term expires in 2019.
There is a new age of "conservatism" that is sweeping many countries across the world. Disillusioned people are very easy to manipulate and work into frenzies. I've seen it today in Greece, France and in South African as well. There is a rise of conservatism in Europe that has outrightly racist, islamophobic, anti-Roma, anti-immigration views etc. It brands itself "nationalism", and it feeds off of fears, disappointments and disillusionment.
In South Africa now, there is a compounding of disillusionment with the economic progress of the country, the leadership of the country, the distribution of power in the country. A lot of the hope that was there in the struggle has turned into disappointment. There is also fear spread widely about immigration into the country. The country is ripe for racist propaganda being fronted as "nationalist agenda".
The ANC had laid a formal complaint with the South African Human Rights Commission to investigate the DA as a "breeding ground" for racists.
Among those that the party had laid complaints against were:
– DA member of parliament Mike Waters who allegedly posted a picture on Twitter showing a pack of dogs lining up at a tree, underneath which was a picture of President Jacob Zuma;
– DA member Penny Sparrow who took to Facebook describing black beachgoers as "monkeys", in an apparent reaction to litter left behind after New Year's celebrations;
– DA member Kohler-Barnard recently came under fire for sharing a Facebook post praising apartheid president PW Botha.
The SAHRC has consistently exposed the character of the so-called Democratic Alliance (DA) as a party full of racists that continue to protect white privilege. Evidence exists beyond any reasonable doubt that there is home for such racism in DA. That party of racist acquired white privilege must never be trusted especially when it comes to the fundamental principles of SA constitution – important principles such as the principle of non-racialism.
The ANC notes that given the reach of social media (Facebook has approximately 1.55 billion and Twitter has 307 million monthly active users respectively) the circulation of such bigoted comments have the potential for causing irreparable harm to the dignity and reputations of individuals and social groups.
The ANC considers the SAHRC and the courts the appropriate means to seek redress on behalf of the millions of South Africans who have been prejudiced, belittled and insulted by these commentators.
The DA's representatives in parliament and its top management are white. Although an exact racial breakdown of voting patterns is impossible because race is not indicated on the ballot, the DA estimates that:
• DA support among black South Africans grew from 0.8% in 2009 to about 6% in 2014. Roughly 760,000 black South Africans voted for the DA in 2014.
• DA support among Indian South Africans grew from 53.7% in 2009 to 61% in 2014; among Coloureds from 55.5% to 67.7%; and among whites from 83.9% to 92.8%.
The political future of the President and his ANC party are in doubt because of some serious economic and domestic mishandlings, so it's entirely possible that the pro-American 'opposition' will gain some extra support in the next electoral round and gradually strengthen their influence in the country, much to Zuma and his multipolar BRICS partners' expected expense. With the DA gaining ground and working hand-in-hand with the US' allied information outlets to craft the perception that they're on the inevitable ascent to full power.
For the moment at least, South Africa is still in a position to render supportive assistance to its anti-apartheid allies, but this could abruptly stop if the liberal Soros -funded "Democratic Alliance" 'opposition' pulls off an impressive showing during the local elections and expands their white power over the rest of the remaining major cities that are still outside of their control, which is what some observers are expecting.
Washington ideally hoped that South African President Zuma would have already been deposed by a 'constitutional coup' by now and that his country could be the ' Lead From Behind ' springboard for guaranteeing that the anti-Mugabe mission succeeded, but since he defied the odds and survived the plot earlier this year (unlike his BRICS counterpart Dilma Rousseff). In fact, South Africa has always been the regional crown jewel for american regime change planners.
The ANC party maintains that Washington through its embassy in Pretoria is pursuing a regime-change agenda. Party spokesperson Zize Kodwa stated in March 2017: "They have taken about 45 young people to America to train them as part of their leadership program. What we got from those young people is not what they expected; they were trained on how to destabilize the country and regime change."
"As we mobilise our people, we must say be vigilant. You must see through anarchy and people who are out there in a programme of regime change. We are aware of the meetings taking place regularly at the American embassy," ANC Secretary General, Gwede Mantashe told thousands of ANC supporters at the in Pretoria.
The BRICS stalwart of South Africa is existentially threatened by the danger that mass migration from countries collapsed by US and NATO could spark the unitary republic's dissolution into a collection of quasi-independent tribal/ethnic-based federal statelets. Not only are visible segments of South African society violently xenophobic against the influx of African migrant workers that have flooded into the economically promising state over the past two decades, but there are even deep undercurrents of extremely polarized tension among its native peoples. Zulu nationalism was blamed for the xenophobic riots of early 2015, and the failure of South Africa to transcend identity-centric politics poses a very real threat to all other ethnicities within the country such as the Xhosa and Basotho , for example, whether they're killing one another or fighting within their own groups.
In Africa there are numerous examples from the post-colonial period of the last five decades where USA and European states have sought to reverse the forward progress of the masses of workers, farmers, youth and their leadership. A myriad of challenges are facing the South African ruling party including an economic recession, the bringing of several allegations about corruption within the office of the presidency, a declining stock market and national currency along with increasingly worsening relations with the United States. Western powers want to remove the ANC because they do not want the ANC to develop relations with those countries which helped the party in the anti-apartheid struggle.