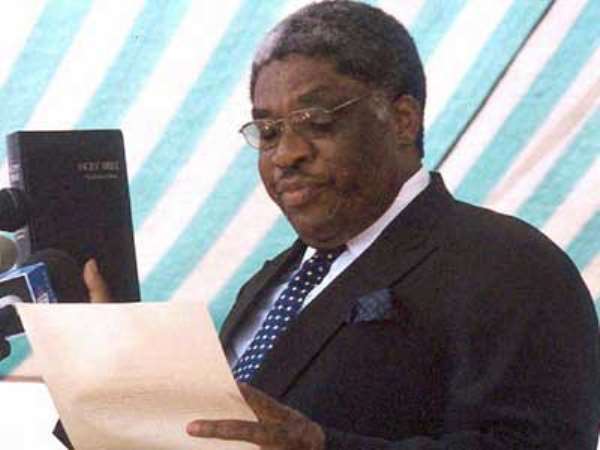 Accra, May 11, GNA - President Levy Patrick Mwanawasa of Zambia arrived in Accra on Wednesday for a five-day state visit during which he would hold talks with his host President John Agyekum Kufuor.
President Mwanawasa, the third President of Zambia, who is paying his first visit to the West Africa Sub-Region, was met on arrival by a welcoming delegation led by President Kufuor and his wife Theresa. President Mwanawasa came with his wife Maureen; Minister of Foreign Affairs and Minister of Mines and Mineral Development; Deputy Minister of Finance and the Commissioner of Police.
The Zambian President inspected a guard of honour mounted by three officers and 101 men of the 48 Engineer Regiment under the command of Captain Ernest Nyuuru.
President Mwanawasa told Journalists that he regarded the visit as a learning experience.
He said there was a new breed of African Leaders, who were committed to economic development and would, therefore, want to find out the economic path Ghana took to reach this far.
He said Ghana and Zambia had a lot in common stressing that although they had a lot of resources, they had both taken advantage of the Highly Indebted poor Countries (HIPC) Initiative.
President Kufuor said the two countries shared common colonial ties and both were committed to good governance, which should be the underpinning for economic development.
President Mwanawasa took office on January 2, 2002 to succeed President Frederick Chiluba, who succeeded the First Zambian President Kenneth Kaunda.
Born on September 3, 1948 in Mufulira, Zambia, he was the second child in a family of 10 and holds a Bachelor of Laws degree from the University of Zambia.
He worked in private firms from 1974 until 1978 when he formed his own firm, Mwanawasa and Company. In 1985, President Mwanawasa served as Solicitor General of the Republic of Zambia but went back to private practice the following year.
President Mwanawasa worked as Senior Partner in this firm until March 1992 when he was named as Vice President of Zambia.
On December 8, 1991 while on duty, President Mwanawasa was involved in a road accident in which his aide died on the spot. He suffered multiple body injuries and was flown to Johannesburg, South Africa, for medical treatment and was hospitalised for three months. President Mwanawasa served as Vice President of Zambia from 1991 until July 1994 when he resigned citing gross abuse of office and corruption by some leaders and insubordination to him by some colleagues.
In 1996, he contested the presidency of the Movement for Multiparty Democracy (MMD) against Former President Chiluba. He lost and retired from active politics again.
In August 2001, the National Executive Committee of the MMD elected President Mwanawasa as its presidential candidate for the elections, which he won on December 27, 2001.
President Mwanawasa is married to Maureen, a fellow lawyer, and they have four children.